Flood aftermath exposes infrastructure failings
By Salome Modebadze
Tuesday, May 15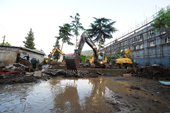 President Mikheil Saakashvili has met with Tbilisi Mayor Gigi Ugulava and Minister of Finance Dimitri Gvindadze to assess the damage caused by Saturday's flooding. Saakashvili said if the emergency services and the Ministry of Internal Affairs had not have worked so hard, more people would have died in the natural disaster.
"Tbilisi should be released from the barracks," Saakashvili said, encouraging people to search for jobs in regions instead of living in illegal garage-apartments waiting for employment in the capital.
According to the official information, five people died in these car-garages-turned-homes. To avoid a new tragedy, the President initiated "strict standards" to hinder further accommodation of people in garages. "I couldn't even imagine people living in such places," he said.
Promising to refund damage to the regions, Saakashvili encouraged Ugulava and Gvindadze to brainstorm ways out of the situation. As Mayor Ugulava said, families who have been left homeless have been provided with temporary shelters and goods necessary for their everyday lives.
Promising they will not leave a single person in trouble, the Mayor's Office called the recent flooding "an exam" and promised to take care of the 11 families affected by the natural disaster. The Social Service Agency provided them with food, clothes, toys, and school materials so that they could restart their everyday lives.
A special commission is still calculating the exact financial damage but according to preliminary information it may reach several million GEL.
On the night of May 12, heavy rain damaged water drainage systems and caused serious flooding in Tbilisi. Hardest hit was the Ortachala district.
Nino Chkhobadze, co-chair of the Green Party, expressed concern for the city's improper drainage system. She noted that "unplanned construction" often filled even dry ravines with garbage, causing dangerous conditions during rainstorms. Worrying ravines have not been cleaned for decades, Chkhobadze suggested "strict monitoring" of drainage systems as there is always a possibility of inundation after rain.
Revaz Getiashvili, Chair of the Caucasus Environmental NGO Network, believes it was possible to foresee the flooding. "People should have information to escape the tragedy," he said, stressing the lack of "management of natural catastrophes in the country."
Opposition parties also encouraged the Mayor's Office to improve drainage systems in the capital. As Davit Gamkrelidze, leader of New Rights said, the disaster in Tbilisi was caused by improper infrastructure. He called on the Mayor's Office to focus on "real problems" and not "facade changes". Salome Zourabichvili of Georgia's Way also raised the responsibility of Ugulava's office, stressing that the government has no resources to protect its citizens from flooding every spring.