Saakashvili announces EU visa liberalization roadmap
By Ernest Petrosyan
Thursday, May 31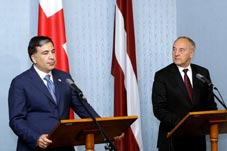 Georgia and the EU will announce a "roadmap for visa liberalization" within the next few days, President Mikheil Saakashvili announced at a press conference with his Latvian counterpart Andris Berzins in Riga on Tuesday.
Saakashvili expressed hope that within the next couple of years Georgians will be able to travel to all European countries visa-free. He called the roadmap "the result of our very strong re-admission policy and our fight [against] crime".
Georgia, however, has the highest rate of visa refusals at EU consulates, according to research published in April.
The EU is also using a roadmap - a set of detailed requirements that a country should meet in order to be granted a short-term visa-free regime - with Western Balkan states. EU foreign ministers, after a meeting in Brussels in February, said that the EU was ready "to take gradual steps, including establishing a two-phased Visa Action Plan, towards a visa-free regime in a secure and well managed environment in due course".
"We are convinced about our European integration chances," President Saakashvili commented. "Next year we hope to conclude talks on deep and comprehensive free trade agreement with EU," he said.
Saakashvili, while in Latvia, also discussed Georgia's continual problems with Russia. "I hope for Russia to become a normal country, and [so] it will be possible to cooperate with it," he said.
"Of course, [Russian President Vladimir Putin] also said that he hates me personally and wants to get rid of me," he continued. "They attacked Georgia to kill me and throw away the government but they did not achieve this".
Saakashvili says that he expects a new Russian attack near the October elections, implying that the Kavkaz 2012 military exercises are actually a plot against Georgia.
"We expect Russia's next attack for the October elections. I think that the attempt will not be successful. We try to be consistent and flexible as much as we can, but we are not going to give away our independence for cooperation with Russia," he maintained, adding that Georgia has given a "helping hand" to Russian citizens by lifting the visa regime.
"It's impossible for Georgians to receive a Russian visa, but citizens of Russia can visit Georgia without a visa. This year, up to a million [Russian] citizens will arrive in Georgia. We also gave a helping hand to a lot of regions in our neighbourhood. We hope that the perception of their neighbouring states is changed in Russia too," he said.
Among other issues the President discussed were the situation in Abkhazia and South Ossetia, and IDPs from Georgia's breakaway regions.