Director of Police Academy appointed as new head of NAEC
By Messenger Staff
Thursday, May 31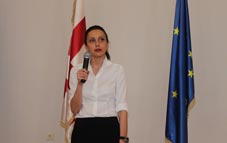 Minister of Education and Science Dimitri Shashkin announced today that Khatia Dekanoidze, Director of the Ministry of Internal Affairs Police Academy, is the new Director of the National Examinations Centre (NAEC), after Maia Miminoshvili was dismissed from that position on Monday.
"She will move the education reform to a new level," Shashkin said. "Her task is to secure holding of the upcoming university entry national exams in the best way and to continue reforms".
"I came with my team, which will help me establish innovations," Dekanoidze said, referring to a number of Police Academy instructors and management who are moving to the NAEC with her. She noted that she is well aware of the reforms being carried out in the Ministry and the Examination Centre, and guaranteed that this year's exams will be run smoothly.
The Minister's decision to appoint Dekanoidze was welcomed by the staff of a number of Georgian universities. Director of the Free University, Kakha Bendukidze, stressed that Miminoshvili should have been dismissed earlier if the policy and plans of the Ministry and the NAEC were in conflict. "I think it's impossible that the Ministry's sub-department had another policy. I underscore – not another opinion, but another policy. Mrs. Miminoshvili had to be dismissed earlier," Bendukidze said.
However, due to accusations made by Miminoshvili in the wake of her dismissal, Shashkin had to clarify that the Ministry was not issuing fake exam certificates.
As Miminoshvili claimed on Tuesday, up to 600 fake certificates were issued at the consent of Minister of Education. She had previously stated in August of last year that a number of students from national minorities had presented certificates to the Centre, asking to be allowed to take the exam. "Our employees found them in the database, though it turned out that these pupils failed the school exit exams. We told them that they could not take part in the exams as they failed and had no certificates - however, they presented them, [and] we were shocked".
She says she spoke to Minister Shashkin about the incident. "He told me that it was necessary from a political viewpoint. Shashkin told me to tell the employees that the certificates were fake and calm them all".
Miminoshvili asserted that after the fact, the Minister send her an order stating that these students could not continue their education in Georgian institutions, through they were able to continue their studies at universities abroad. Calling this "an international scandal", Miminoshvili went on to say that the Minister had explained that those students who failed their school exams would receive a different certificate through which they are able to continue their studies anywhere except Georgia.
Responding to Miminoshvili, Shashkin said that he has not done anything illegal. "Unfortunately, there are people in our country who remember after being dismissed that the Minister is a criminal," he remarked. "I'm ready to hear in the near future that I killed Kennedy, that I'm Satan, and the people who were against Maia Miminoshvili's policy also serve Satan," he added.
Former Minister of Education Gia Nodia has commented that it was a poor time to dismiss the Centre's director, as the exams are scheduled to occur in one month's time. He praised Mininoshvili as a very qualified leader and the construction of an organized examination system was her doing. He declined to comment on rumours that she was dismissed for political reasons, as both her son and brother have connections to the Georgian Dream opposition coalition.
Miminoshvili was dismissed on May 28. A Ministry statement gave the reason as "principle incompatibility" with government policy. Approximately 60 employees of the NAEC have resigned in protest.