Clinton identifies four priority areas for Georgia
By Ernest Petrosyan
Wednesday, June 6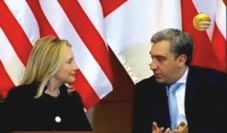 The forthcoming parliamentary elections this fall and the presidential election next year are an opportunity for Georgia "to deepen its democracy and strengthen the legitimacy of Georgia's democratic institutions in the eyes of your public and of the world," remarked US Secretary of State Hilary Clinton during the US-Georgia Strategic Partnership Commission session in Batumi on Tuesday.
In her opening remarks, Clinton stressed the four priority areas in the Charter Agreement on Strategic Partnership: democracy, trade and economy, defense and security, and people-to-people exchange.
She noted that Georgia "had taken important steps" in terms of reforms since the Rose Revolution and that the "progress has been noted worldwide."
"Now it is up to Georgia to consolidate your democratic gains. That is the key to Georgia's future and it will bring Georgia closer to achieving your Euro-Atlantic aspirations," Clinton remarked.
The Secretary of State added that the US is urging Georgia's leadership to ensure a competitive electoral campaign and free and fair elections. She hailed the launch of the Inter-Agency Force for Free and Fair Elections and welcomed the introduction of financial incentives for political parties to motivate them to recruit female candidates.
Referring to economic matters, Clinton said that interest in investing in Georgia will increase as the country continues to strengthen its accountability, transparency and rule of law.
She also noted that the US and Georgia are now willing "to take our trade and investment relationship to the next level," implying the possibility of a free trade agreement and other measures that will facilitate trade and investment.
Georgia and the United States, Clinton continued, "already have strong bilateral defense cooperation". She reiterated US support for Georgia's NATO aspirations and stated that during the recent Chicago summit, the Alliance had agreed that Georgia was making good progress.
As for people-to-people exchange, she said that her administration has taken steps to ease the process of Georgian citizens' travel to the US. Clinton also said that she would announce steps that would make it "easier for the residents of the separatist regions to visit the United States".
She concluded by saying that the two countries have achieved a lot in their bilateral cooperation over the past twenty years and, "we have many reasons to be optimistic about what the future holds".
Georgian Prime Minister Nika Gilauri said in his opening remarks that American assistance "is a powerful catalyst of democratic transformation and the reform process" in Georgia.
He noted that a free trade agreement between the two countries will have huge political and economic significance for both. Gilauri added that cooperation in the defense and security spheres will increase Georgia's self-defense capacity, and expressed gratitude to the US for their "constructive position" at the Chicago summit.
"As an aspirant country, we will continue moving down the path of NATO membership," Gilauri maintained.
After opening the Strategic Partnership Commission session, Clinton met with opposition representatives and then participated in a handing-over ceremony for two Georgian Coast Guard patrol boats, renovated and modernized with US funding.
"The US stands with Georgia and we will not waver in our support for Georgia and your territorial integrity," Clinton said.
Since 2009, the United States has contributed $10 million USD to help the Georgian Coast Guard "become a sustainable, self-sufficient service, capable of patrolling and protecting its territorial waters".
The Secretary of State concluded her official visit to Georgia with a joint briefing alongside Georgian President Mikheil Saakashvili. Clinton continues on to Azerbaijan June 6.