Clinton meets with opposition representatives, minus Ivanishvili
By Gvantsa Gabekhadze
Wednesday, June 6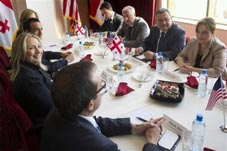 The upcoming elections and the future of the Georgia-NATO relationship were the major issues opposition representatives discussed with US Secretary of State Hilary Clinton on June 5.
Despite the fact that Bidzina Ivanishvili, leader of the Georgian Dream opposition coalition, did not attend the meeting, his name was mentioned frequently, participants report.
Yesterday, Georgian Dream announced that Ivanishvili had sent a letter to the US Embassy requesting a one-on-one interview with Clinton. This request was denied, causing speculation that this snub was the reason Ivanishvili did not attend today's summit. Chair of Georgian Dream –Democratic Georgia, Manana Kobakhidze, stressed that because Ivanishvili is not a Georgian citizen and therefore cannot be a party leader, he declined to participate in the opposition roundtable.
Kobakhidze noted that American officials declined to meet Ivanishvili because in the campaign environment it would cause "addition emphasis" that may not have been appropriate.
She asserted that Clinton expressed interest in why Ivanishvili has reject the recent constitutional amendment that would allow him to participate in the upcoming elections. "We have explained to her that first of all, changing the Constitution for one person is unacceptable. Also... we have underlined that the main reason why Ivanishvili denies the changes is that the President does not grant him citizenship and refuses to legally decide the issue," Kobakhidze remarked.
As fellow representative of Georgian Dream and the leader of Republican Party, Davit Usupashvili, said, "Clinton was well informed on the Georgian situation, as the US Secretary of State openly mentioned problems in the Georgian media and judicial environment. She is also informed regarding the oppression of political opponents [by the administration] and she has stated that the US Embassy is actively observing the situation. She has mentioned as well that more international observers will come for the elections."
Leader of the Christian Democratic Movement, Giorgi Targamadze, also noted how well-informed Clinton was, but noted that a large part of her information had been delivered by the government. He therefore affirmed the importance of frequent meetings between opposition representatives and the US to provide a realistic and balanced picture of the political situation.
Targamadze also mentioned the significance of Georgia's potential membership in NATO, stating that "Clearer mechanisms and exact criteria are very necessary for this".
He noted that the upcoming elections are too important, and the US has invested too much into Georgia, to not be deeply engaged with the process.
Similar topics were voiced by the leader of New Rights, Davit Gamkrelidze, who said that he summarized the NATO Chicago summit results with the Secretary and mentioned that Georgia needs a concrete action plan in order to move closer to the organization. Gamkrelidze also suggested that Clinton underline the importance of a multi-party Parliament. "The main issue was the election environment and equal conditions for all participants in the election process," he remarked.