Saakashvili announces student discount card program
By Salome Modebadze
Tuesday, June 12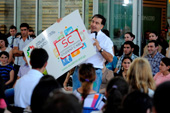 Over 100,000 students will receive student discount cards, entitling them to 10-50% discounts at a variety of government services and private businesses.
President Mikheil Saakashvili shared the "magic" functions of the card with students at the Public Service Hall in Ozurgeti, Guria. Starting yesterday, every student can make use of the card's privileges at any time. This means they can apply for a driver's license for only 15 GEL, save 50% on rail tickets and 70% at the Aqua Park, among other discounts.
As Saakashvili acknowledged, discounts on services are necessary for today's students, as they do not work full-time jobs and often are unable to earn enough money to support themselves. "Students are those most important people, for whom we are trying to achieve our goals," he said.
As he explained, the new cards will contribute to the restoration of social justice in Georgia, and help everyone earn a degree and develop their professional career. "We are all trying to change this country with you… We are trying to make tomorrow a better day with your support," the President told the assembled students.
Under the program titled "Simplify Your Life", students from any authorized university are provided with a discount card for free. Students, not surprisingly, welcomed the government initiative, saying that its privileges will help them survive without a regular income.
Saakashvili also announced that those 25,000 students registered for the Summer Jobs program will have the opportunity to apply for next year's program, by automatically remaining on the list of employees. Another 15,000 students will also have the opportunity to apply. He hopes that next year more of the participating employers will be private organizations, rather than government bodies as is the case this summer.
The President maintains that the reform of the Unified National Exam system, scheduled for the next school year, will also support social equality among Georgians. University entrants currently pay 40 GEL to write the exam, but next year the fee will be lifted. Saakashvili explained that schools should give students enough knowledge to successfully apply for a spot at a university, while especially talented students from the rural regions will be given scholarships.
He noted that despite the path to "Singapore-ization" Georgia is following, people still face poverty and every tetri is decisive to them.