Appathurai: upcoming elections "significant test" for Georgian democracy
By Ernest Petrosyan
Tuesday, June 12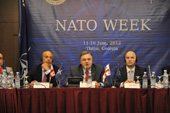 The upcoming parliamentary and presidential elections will be a significant test for Georgia's democracy, James Appathurai, the NATO Secretary General's Special Representative for South Caucasus and Central Asia said during a meeting with Georgian Vice Prime Minister and Minister for European and Euro-Atlantic Integration, Giorgi Baramidze. Appathurai is in Tbilisi for NATO Week, which began yesterday.
Appathurai hailed Georgia for its "significant contribution to the ISAF mission," recognizing Georgian losses in Afghanistan and expressing his condolences over the deaths of 16 Georgian soldiers. He noted that Georgia is not only a user of collective security, but also contributes to that security.
He said that the Georgian people not only aspire to achieve the goal of NATO membership, but understand what NATO represents. "NATO Weeks are held, by everyone including NATO member states, though public surveys have shown that even NATO member states have not fully [understood] NATO," Appathurai said, emphasizing that these events are important.
"Georgia is among the 13 countries that were invited to solve and discuss private security issues. Georgia is also among the four countries that are NATO aspirant members. It was highlighted in the scope of ISAF that Georgia is a significant unit and this is confirmed by Chicago decisions. The Georgian government is looking to the future, which is depicted in the joint communique," he stated, before congratulating Georgia on the "progress achieved at the Chicago summit".
"It is very important to host people like James Apathurai within the NATO Week in Georgia. This visit is very important, as it is a post-Chicago summit visit. We are pleased that NATO acknowledged that positive steps made, namely the reforms successfully conducted in Georgia," Baramidze said in response.
Alongside the NATO Week conferences, Appathurai will hold meetings with civil society representatives, analysts, journalists, professors and representatives of the diplomatic corps. In addition, Latvia's State Secretary of the Ministry of Defense Janis Sarts, with Baramidze, will meet Free University students to discuss NATO's agenda and politics.
NATO Week will be closed by Baramidze and Lithuania's Permanent Representative to NATO at Telavi State University on June 16. The Week is organized by NATO and Georgia's Ministry for European and Euro-Atlantic Integration. This is the fifth time NATO Week has taken place in Georgia.