Deputy Prosecutor to run for UNM in Tbilisi parliamentary race
By Salome Modebadze
Tuesday, June 12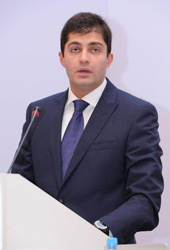 First Deputy Prosecutor Davit Sakvarelidze has left his position in order to enter politics. As Sakvarelidze said on Monday, he has completed his mission at the General Prosecutor's Office and wants to use his experience and resources in politics. "There is nothing special in my decision," he remarked.
Speaking of the changes to the Prosecutor's Office carried out with his team, Sakvarelidze highlighted how people-oriented the organization has become.
For years, the Prosecutor's Office lacked an internal regulatory policy and were unable to assist people in defining truth and restoring justice. "There is no such problem in the office anymore," he asserted, adding that he would continue in the same vein in politics.
UNM MP Pavle Kublashvili spoke of Sakvarelidze as an experienced member of the executive team whose skills and abilities will be very useful for the legislative body. Without confirming rumours that Sakvarelidze will be the candidate for Krtsanisi, Kublashvili said the time will reveal everything.
Christian-Democratic Movement member Levan Vepkhvadze said it would be better if the other officials who plan to participate in upcoming elections would follow Sakvarelidze's decision and quit.
It was last week when the NGO 42nd Article of the Constitution called on the then-Deputy Prosecutor to respond to rumours about his possible candidacy. Welcoming Sakvarelidze's resignation, the NGO stressed that a person working at the Prosecutor's Office cannot become a member of a political party or be engaged in politics, as the law states that political neutrality is one of the main principles of the office.
According to preliminary, unconfirmed information, the United National Movement (UNM) has already selected directly-electable parliamentary candidates for Tbilisi. Sakvarelidze is the candidate in Krtsanisi; MP Archil Gegenava in Mtatsminda; former Minister of Labour, Health, and Social Affairs Andria Urushadze in Saburtalo; Minister of Justice Giorgi Vashadze in Isani; Parliamentary Vice-Speaker Mikheil Machavariani in Samgori; Minister for European and Euro-Atlantic Integration Giorgi Baramidze in Didube; MP Andro Alavidze in Chugureti; City council member Nikoloz Khachirishvili in Gldani; Merab Samadashvili in Nadzaladevi; and in Vake, Deputy Minister of Economy and Sustainable Development, Giorgi Karbelashvili.