PM paints bright picture of Georgian economy- analysts remain skeptical
By Ernest Petrosyan
Tuesday, June 19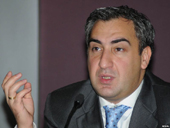 Georgian Prime Minister Nika Gilauri summarized the country's macroeconomic activity over the first quarter during a government session that took place on June17. According to Gilauri the foreign trade turnover has increased by 19-20%, import has increased by 22% and export by 12-13%.
As Gilauri later clarified, recent quarter figures are optimistic, especially taking into account the fact that the export rate over May was one of the highest.
"Georgia's export [volume] is increasing slowly as compared to the previous year. However, the rate is still high enough. As for FDI inflow, the first quarter was one of the most successful, as a result of which, over $270 million entered the country," said Gilauri naming Germany as Georgia's top investor.
"If we compare the current data to the same data of the previous year, the economic growth amounts to about 60-65%, and this is very important. It means that these investments are in jobs, which will reduce the unemployment rate, which is our core goal now and in the foreseeable future.
The prime minister also noted that Georgia's GDP has also increased and over the first quarter it increased by 6.8 %. Gilauri noted that this figure is high for the S. Caucasus region and in the world, "especially taking into consideration that many developed counties are [currently] facing serious economic problems."
Economic analysts however do not share PM Gilauri's optimistic view. The majority of economic analysts agree that the leading export goods such as auto export and scrap metal, are in reality
re-exported
goods, as Georgia produces neither of them.
The re-export of automobiles from Georgia goes mainly to Azerbaijan and Armenia, as well as to some states in Central Asia, but in relatively less numbers. As for the scrap metal, Georgia also plays a transit role and re-exports scrap metal from both Armenia and Azerbaijan.