Georgian Dream comes to Ozurgeti
By Gvantsa Gabekhadze
Tuesday, June 19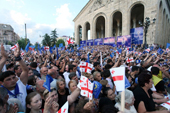 The Georgian Dream coalition held another large-scale rally in the Ozurgeti region on June 17. Based on media reports, around 30,000 people attended the demonstration. The coalition leader Bidzina Ivanishvili made some new statements, named the majoritarian candidates of the region and voiced information concerning the upcoming rallies in Mtskheta – Mtianeti.
Apart from the promises Ivanishvili made during his previous meetings with the Georgian public, (universal healthcare system, state insurance, 1 billion GEL investment in Georgian agriculture, decrease of communal fees etc.), the billionaire this time touched on the current president's "dreamy town of Lazika," calling his intention to build it "obstinacy."
Ivanishvili, who was happy with the large crowd, said that the "inconceivably high fine" leveled against him, would not scare him and referred to the tactic as "Saakashvili's weak tricks."
As for the candidates, three of them have already been named: journalist Temur Chkuaseli in Chokhatauri, former football player Temur Chkheidze in Lanchkhuti, and former diplomat Zviad Kvachantiradze in the Ozurgeti district.
The following rally is to be held in Mtskheta- Mtianeti on July 1.
The representatives of the Georgian Dream have assessed the rally successfully and underlined that despite governmental pressure, the process has become irreversible. Based on Georgian Dream spokesperson Maia Panjikidze, the coalition is fighting in different directions- one of them is media plurality. According to her coalition supports, the movement It Affects You judicial initiative on must carry and must offer principles. "The initiative will enable Georgians to obtain diverse information concerning the political situation and reality in general. The ruling administration refused the initiative, as they would have lost their media monopoly in this case. The authors of the initiative are going to collect 30, 000 signatures and we appeal to our supporters to assist the NGOs in this regard," Panjikidze, said.
As analyst Ramaz Sakvarelizde emphasized, the rally was massive and was different from other rallies, as Ivanishvili took on several functions. "He directed the whole process, was very free in his speech and referred to his notes rarely. Day after day he is growing as a public politician," Sakvarelidze said.
Regarding the majoritarian candidates, Sakvarelidze mentioned that the party rating would determine the success of the candidates, both from the ruling and opposition rows rather than from the personal achievements of the selected.
Unlike Sakvarelidze, fellow analyst Mikeil Tavkheldze provided a very poor estimation of the rally. According to him the Georgian Dream's promises is "unruly propaganda and completely absurd."
Former Georgian official and current rector of Free University Kakha Bendukidze also assessed the coalition poorly, stating that the economic intentions voiced by the coalition would worsen the state's economic situation.