OSCE adopts another resolution
By Ernest Petrosyan
Tuesday, July 10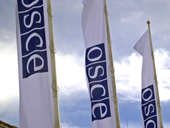 The OSCE Parliamentary Assembly adopted another resolution on the occupied territories of Georgia, the dignified return of IDPs and non-fulfillment of the ceasefire agreement on July 9. During the debates discussing the resolution conducted prior to the voting; only the Russian Federation voted against the document, calling it incorrect and partial.
The resolution that has been debated at the OSCE Parliamentary Assembly`s Annual Session in Monaco on July 5–9, also refers to the re-opening of the OSCE Mission to Georgia and the granting of the European Union Monitoring Mission (EUMM) unimpeded access to Georgia's occupied territories. Polish MP Michal Szczerba has pushed the document forward.
The document, co-sponsored by 36 parliamentarians from 9 different countries, reiterates many of the objectives of the Geneva Discussions but puts specific emphasis on the repatriation of internally displaced persons and granting EUMM access to the regions of Abkhazia and South Ossetia in Georgia.
Parliamentarians from across the 56 OSCE countries will vote on the resolution and declaration in Monaco.
Along with the adoption of the resolution, Georgian MP Gigi Tsereteli was also elected as a Vice President of the Parliamentary Assembly.
"I think it is very important that Georgia has a high post in the OSCE parliamentary assembly. We had very tense elections and we had support of many delegates. We will have more votes, particular rights and more responsibilities," said Tsereteli.
National Democrats Leader Guram Chakhvadze assessed the adoption of the resolution saying it was a result of a successful foreign policy. "The adoption of this resolution is very important as points of the resolution such as the dignified return of IPDs, occupation, Georgia's territorial integrity, and cease fire agreement, can become a mechanism for political pressure on the Russian Federation," said Chakhvadze.
US Senator John McCain also attended the debates in Monaco. He reiterated his support for Georgia and stressed the significance of supplying the country with defensive weapons to increase the defensive capabilities of the country.