Reduce dangerous pest, bring people together
By Etuna Tsotniashvili
Wednesday, July 11
Western Georgia has been suffering the effects of American White Butterfly (AWB) for several years. The fall webworm, Hyphantriacunea, also known as ABW, is a dangerous pest able to completely defoliate trees and shrubs. It causes serious damage to over 300 species of plants, especially fruit trees, hazelnuts and annual crops – major source of income in western Georgian regions.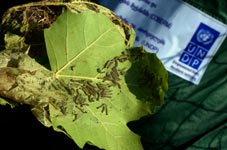 Due to the climatic conditions of Georgia, the pest produces two generations, sometimes three. If adequate measures are not taken every season, fifty-percent of the harvest will be reduced. Left untreated, nut trees will dry-up within three years.
There are effective methods for the control of AWB, including biological treatment, but these are not widely used in the affected regions.
The government has been active in spaying chemical pesticides in public areas, roadsides and parks. But this is a partial solution to the problem as the most favorable conditions for the pest propagation are in the farmers' plantations and lighted backyards.
Marika Gulua of the National Food Agency (NFA) of the Ministry of Agriculture of Georgia says that the government does its best to eliminate these problems. The NFA provided bio treatment to the regional municipalities to be distributed among the farmers. However, many did not use them.
"We distributed information leaflets to every family to instruct the farmers on how to apply the bio pesticides. But many farmers did not use them until our workers appeared. Nut trees have a tendency to regenerate and that is why people seem to care less," Gulua told the paper.
To help control AWB so that it no longer offers a threat to livelihoods, raise farmers' awareness of effective control methods and practices, and create a network of integrated pest management specialists, the United Nations Development Programme (UNDP) with support from the European Union and the government of Norway, launched a pilot initiative in the villages of Koki and Khurcha in the Samegrelo region, and the villages of Nabakevi and Tagiloni in the adjacent Gali district. The ABW treatment benefits both sides of the conflict divide.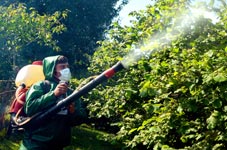 Florian Delaunay of UNDP says: "We are helping to bring people together. They can't always work together physically but they still share a common link, as they face the same problems. We make sure that people can talk to each other, communicate and share experience."
In his interview with
The Messenger
, Delaunay noted the lack of awareness of the modern treatment methods among local residents. To treat the problem, UNDP provided3,600 liters of bio pesticides which are not harmful for the ecosystem, and distributed technical equipment – tractor, motorized and manual sprayers, and electric traps.
"We arrange training sessions to inform the farmers about the AWB control methods and show that best results will be reached through a combination of mechanical, biological and chemical treatment," Delauney said.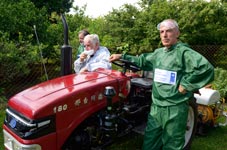 Alu Gvakharia, Chairman of NGO Caucasus Business and Development Network,says that residents of the target villages are being encouraged to get more involved in order to help maintain their plants' safety. "We are glad to use bio techniques and nottoxic chemicals. Chemicals have an immediate effect, but can be very harmful– the bio technique requires a few days for activation, but is environmentally friendly," Gvakharia said.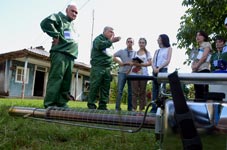 62 year-old Tristan Shedania from the Village of Koki harvests around 2 tons of nuts annually and this represents a major source of income for his family. Recalling problems with his harvest in recent years, Shedania said that "they provided me with all the equipment needed for spraying the plants. I have learned how to use it and also attended the information meetings which taught me a lot," he said.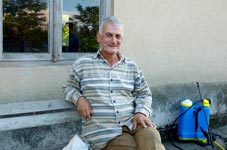 Chief Agronomist from Nabakevi, Vazha Pipia reports that the other villages in Abkhazia would be interested to get involved, especially as they receive information on the results of bio pesticides. "Nut trees should be able to survive in Abkhazia and people expect help. They would greatly benefit from bio pesticides to assist them."
Keti, civil society representative from the Gali district, says: "The AWB initiative runs in two villages but we held information campaigns in other villages as well. There are a lot volunteers who would like to begin the same project in the other parts of Abkhazia. People are motivated as they feel that someone stands with them. They welcome us and help us to do our job successfully."
"We do not know if we are going to receive any help in the future. We are doing our best to provide information to the local residents so they can continue the job themselves," Keti noted adding that prices on pesticides are so high in Abkhazia that it is not an easy job for the locals to buy them.
The AWB infestation affects around 50,000 ha in Samegrelo and around 25,000 ha in Abkhazia, of which about 5,000 ha are in the Gali district. First generation treatment of the pest ran in June while the second generation treatment will begin at the start August.
UNDP's pilot initiative will end in November 2012.
(Photos by UNDP/David Khizanishvili)