Often overlooked, Christian Democrats make their case as a third option
By Gvantsa Gabekhadze
Monday, July 16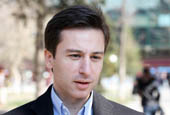 The parliamentary opposition Christian Democrats opened its pre-election campaigning on June 13 in Kutaisi. The main points voiced by the representatives of the parliamentary minority revealed differences between all other political parties in the country.
As the chair of the movement, Giorgi Targamadze, pointed out that the current Georgian leadership is taking a "check-mate" approach– if the government achieves success only they will reap the benefits and if they fail– the people will have to pay.
"The situation has not changed. Despite cosmetic changes in the government, the concept remains the same. The new Prime Minister of Georgia, Vano Merabishvili, is both the co- founder and a key part of the current repressive machine. I am sure despite the optimism from the government's side, Merabishvili will not be a high-quality oil for an old-fashioned engine (National Movement)" Targamadze stated.
After his metaphorical comparison, Targamadze underscored that the Christian Democrats have always been in opposition of the government. However, they have always tried to keep balance by not to exceeding the limit.
"The Christian Democrats have never been sold on money," Targamadze stated and appealed to all parties to act based on the country's interests.
The National Movement was not the only political party the Christian-Democrats criticized while opening their pre-election campaign. Strong statements voiced by Targamadze were indirectly targeted at the Georgian Dream. "It has been voiced that Georgian side launched the war with Russia. Today Saakashvili is the country's president but tomorrow he will not be. Despite their great desire (supposedly, Georgian Dream) to take over power in the country, this fact does not warrant such an accusation," Targamadze said.
Fellow representative of the movement, Inga Grigolia, explained that unlike Mikheil Saakashvili and Bidzina Ivanishvili, who are talking with Georgians from distance, the Christian Democrats have always preferred face-to-face meeting with people. "We are always engaging people– and not only during the pre-election period,"Grigolia stated.
CDM representatives have also paid more attention to social issues– strong families and the importance of moral society.
Despite Christian Democrat claims that they are not sold on money, some of the opposition parties and analysts frequently refer to the movement as a "government satellite" party. When Ivanishvili arrived on the political scene, he immediately revealed those parties he would not work with. The Christian Democrats were one of them. Ivanishvili explained that the CDM created doubts in his mind.
Political analysts Soso Tsiskarishvili and Malkhaz Chemia state that the Christian Democrats have frequently voiced their opinions on initiatives which tend to be more in line with current regime's interests.
However, there are other analysts who refer to the CDM as "constructive oppositionists" and a party that always prefers to choose civilized approaches when it comes to politics.