Kaladze's appeal to unfreeze financial assets rejected
By Ernest Petrosyan
Tuesday, July 31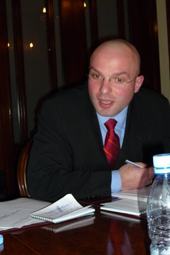 Tbilisi City Court rejected Georgian Dream majoritarian candidate Kakha Kaladze's appeal on the decision for the seizure of his bank accounts. According to Kaladze's lawyer, Shalva Tadumadze, he received a letter form the head of the Criminal Department at Tbilisi City Court, saying that "since there is not any criminal case launched against Kaladze yet, and he does not have the status of defendant, he is not entitled to appeal the court's decision."
"We applied to the Court of Appeals in order to abolish the seizure decision made by Tbilisi City court. According to the legislation, the Court of Appeals should have made three types of decision within 48 hours. The first one could be that for a particular reason, the appeal is not allowed; second, to dissatisfy the appeal, and the third; to satisfy the appeal and abolish the court's decision," said Tadumadze.
"However, I now have the letter of the chancellery employee, Nikoloz Margvelashvili of the Tbilisi City Court, which says that "because there is no criminal case started against Kaladze, he is not a suspect and accordingly, he is not represented in this case as a side, I cannot satisfy your appeal."
Tadumadze claims that Margvelashvili exceeded his authority, as he is just an average executive of the chancellery, and "in the case that our appeal had not been eligible, the Court of Appeals should have told us about this, and definitely not Margvelashvili, as I did not ask them [Chancellery employees] to consider my appeal," said Kaladze's Attorney.
"This document does not fit any legal dimension. I will apply to law enforcement agencies about whether it is eligible for an ordinary chancellery employee to deprive an appeals rights envisaged by the constitution, as well as to respond with such a letter; it is not his prerogative to review appeals and make decisions," said Tadumade.
Tadumadze said he will also apply to the prosecutor's office with a statement to present a new application in the court, as the court claims that Kaladze is not a defendant side, and to withdraw the seizure on Kaladze's accounts.
The FMS's information shows that in a short period of time, Kakha Kaladze received approximately $6 million in his bank account and withdrew the cash in amounts of approximately $1.6 million on multiple occasions. because there is no evidence of depositing the money in another financial institution or using it for a legitimate transaction, the operation qualifies as suspicious under Georgian and international standards (Council of Europe Convention on Laundering, Search Seizure and Confiscation of the Proceeds from Crime, MONEYVAL Committee Recommendations, Financial Action Task Force (FATF) Recommendations).
The analysis of the transactions further show that in the period of time when the large amount of money was cashed out, Kakha Kaladze made cashless payments of approximately $900,000 to cover personal and related expenses.
Therefore, the relevant authorities are obligated by both Georgian anti money-laundering legislation and the international treaties and other binding international standards, to investigate the suspicious transaction involving large amounts of cash ($1.6 million) and freeze the accounts before the investigation is completed," the statement says.