Ambassadorial 2012: Expectations high as elections approach
By Salome Modebadze
Thursday, September 6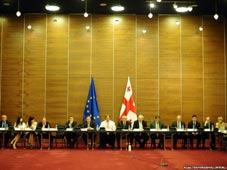 At a press conference held after the closed-door meeting with their Georgian counterpart, the Foreign Ministers of Sweden and Poland said their countries have been monitoring the election campaign in Georgian hoping that these elections will be the most fair and democratic of all the post-Soviet states.
"You have a great chance to create a standard of transparent elections," Radoslaw Sikorski, Minister of Foreign Affairs of Poland said at the Ambassadorial on September 5.
Minister of Sweden Carl Bildt said their regular visits to Georgia prove the importance of their relations with Georgia. "We also feel the necessity for deepening our dialogue about reforms and the process of integration into EU [institutions]," he said.
Carl Bildt welcomed the type of improvements to the election environment where every player can express their own position and hoped that the parliamentary elections will be free and fair. "It is what Georgia wants and what Europe needs," he stated.
Earlier that day the two foreign Ministers met with Georgia's opposition parties. Leader of the Georgian Dream coalition Bidzina Ivanishvili said that Bildt and Sikorski were interested in the election environment in Georgia, as well Ivanishvili's strategy for the country's further development.
"They were interested in our strategy as the real opposition, the strongest opposition power, able to come to power," Ivanishvili said after the conclusion of the meeting. He said the ministers promised to continue their cooperation with Georgia and they hoped that the Georgian government will be changed via democratic elections.
Giorgi Targamadze leader of Christian-Democratic Movement (CDM) said the CDM and their European colleagues have the same concern about ending the "one-party" government in Georgia, to encourage the continued democratic development of the country, as well as Georgia's further integration into Euro-Atlantic structures.
The three-day Ambassadorial will host high-level meetings that will focus on the key goals, tasks and priorities for the following year. According to Georgian Minister of Foreign Affairs (MFA) Grigol Vashadze, there will be several panel discussions about Georgia's territorial integrity, relations with NATO, the EU and cooperation with the new partners. Vashadze said Georgian diplomats will face new missions and search for some possible solutions.
On the first day of the fourth annual Ambassadorial Salome Samadashvili, Georgia's representative to the EU said that 2013 will be an important year for Georgia's integration into European institutions. Samadashvili said Georgian-EU negotiations about associated membership and a free trade agreement should finish by the end of 2013 and hoped that Georgian citizens will have the opportunity to enjoy a visa-free regime for short-term visits to the Schengen countries.
Samadashvili welcomed the presence of the Foreign Minister of Sweden Carl Bildt and his Polish counterpart Radoslaw Sikorski at the Georgian Ambassadorial. She said these two countries are the initiators of the Eastern Partnership and Georgia's important allies.