Ivanishvili meets with U.S. Senators
By Gvantsa Gabekhadze
Friday, September 7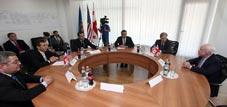 Opposition Georgian Dream coalition leader, Bidzina Ivanishvili met with American senators and the newly appointed US Ambassador to Georgia Richard Norland on September 6th behind closed doors at the coalition headquarters.
The meeting with US senators John McCain, Joseph Lieberman, Lindsey Graham and Ambassador Norland, which lasted for 45 minutes, was described as interesting by the coalition leader. Two Georgian Dream coalition representatives Irakli Alasania, leader of the Free Democrats Party and Davit Usupashvili, leader of the Republican Party, also attended the meeting.
After the meeting Ivanishvili emphasized that no matter the elections' outcome the coalition will not start any violent confrontations.
"We choose peace and only through peaceful means will we defeat our opponent." Ivanishvili stated.
The coalition leader stressed that the senators were well informed concerning the country's issues however they were interested to get information from the coalition as well.
"They were interested in our position, in our assessment of the current situation. They were also interested in my biography. I was also asked questions concerning my Russian property. I told McCain that my last property in Russia was sold yesterday and that it was bought by an American foundation." Ivanishvili said.
Ivanishvili also announced that the U.S. senators' attitude concerning him has changed.
"President Saakashvili permanently states that I am a Russian spy and the senators could see obviously that such claims are far from reality." Ivanishvili stated.
According to Ivanishvili he also discussed the current government's unfair methods in dealing with political opponents, particularly Georgian Dream.
"We promised the senators that we will bring a peaceful process to the elections and change the current government through elections, democratically." Ivanishvili stated.
"Ivanishvili said that he broke all his ties with Russia and we take his words," McCain stated while assessing the meeting with Ivanishvili.
The senator also mentioned that Ivanishvili's position concerning democratic elections and NATO membership is acceptable for them. "As for the choice it should be made by Georgian citizens," McCain stated, adding that the United States wants to see fair elections in the country when the elections' outcomes will not be debatable and losers will recognize defeat.