3T Program- More Benefits to Servicemen
By Gvantsa Gabekhadze
Friday, September 7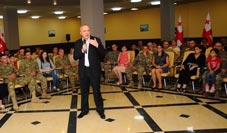 Prime Minister Vano Merabishvili and Minister of Defense Dimitri Shashkin met with representatives of the Ministry of Defense, servicemen and their family members at Vaziani military base on September 6th.
The Prime Minister discussed the benefits of the state program 3T with the people gathered there.
The state programme 3T is defined as total care, total training and total defense. The Prime Minister especially touched upon the first principle-total care.
Merabishvili emphasized how the program will take care of servicemen and their family members.
"Total care is defined as ensuring healthcare service, education, financial encouragement, social benefits and apartments for soldiers and their families, including veterans." Merabishvili said.
Prime Minister promised that healthcare will significantly be improved for career servicemen and their families. Those doing compulsory military service will also get complete healthcare benefits.
Merabishvili also spoke on the educational benefits for those doing compulsory military service. According to the Prime Minister if an individual passes his university exams the Defense Ministry will allocate funds for four years of undergraduate study after a year of compulsory military service. Moreover, if an individual continues his military service for a second year his MA studies will be financed.
Merabishvili stated that career servicemen will be given computer and English language learning vouchers. Those who completed 20 years of military service will be given a 1000 GEL professional education voucher. Those who complete 20 years will also be given one year's salary as a bonus. After 16 years of military service the Defense Ministry will finance the undergraduate education of servicemen's children.
Prime Minister also added that the families of those servicemen killed in the line of duty will receive apartments. Decorated servicemen will also receive apartments.
Merabishvili emphasized that the news will encourage servicemen to be more concentrated on fulfilling their duties.