Upcoming Elections a Great Test for Georgian Democracy
By Etuna Tsotniashvili
Friday, September 7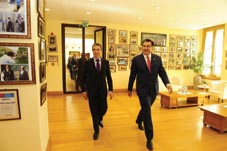 The 2012 parliamentary elections and 2013 presidential elections will be a test for Georgia's democracy, NATO Secretary General Anders Fogh Rasmussen stated yesterday at a joint press conference with President Mikheil Saakashvili.
The Secretary General said Georgia's reforms are bringing the country closer to NATO, stressing that "Georgia is a special partner for NATO and a model of commitment." According to Rasmussen NATO is closely looking forward to the parliamentary and presidential elections which will be a great test for Georgia's democracy. "I trust that all political players in Georgia will play a responsible role in this process; the future is in your hands. But know this: you have a friend in NATO - and a future home in NATO," Rasmussen stated in his address.
In response President Saakashvili said that "We will hold the most transparent and most democratic elections in October.
"I am sure that the Georgian people will make the right choice which ensures continuing integration towards Western direction," Saakashvili said adding that the country will continue its successful path where corruption and crime have no place and everybody will benefit.
Saakashvili emphasized that the elections will be held in a peaceful manner and the authorities will not allow an escalation of violence. According to the Georgian President there have always been attempts from other countries to interfere in Georgia's internal affairs but no one should have any illusions as the elections will be democratic and neither Georgia nor democratic principles will be compromised.
Rasmussen noted Georgia's "very significant" contribution to the Alliance-led ISAF mission in Afghanistan, where Georgia will become the largest non-NATO contributor of troops this autumn, and welcomed Georgia's commitment to be part of a new NATO-led mission after 2014 to train, advise and assist Afghan security forces ."We are deeply thankful for the courage, determination and professionalism that your troops show every day," he said.
This is Rasmussen's fourth visit to Georgia and third one in the capacity of Secretary General. At the end of his speech Saakashvili added that it is time to grant Rasmussen status as an honorary Georgian. " NATO now has a Georgian Secretary-General ." Saakashivili joked.
Rasmussen visited Georgia as part of his trip in the South Caucasus countries. He flew to Tbilisi from Yerevan and left for Baku from Tbilisi.