Candidates argue positions at first debate
By Salome Modebadze
Tuesday, September 11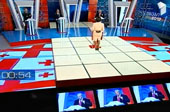 The first debates among the prime ministerial candidates were held at Georgia's Public Broadcaster (GPB) with support of USAID and IFES on September 9. The three prime ministerial candidates answered questions on how they plan to reduce unemployment; how they will distribute budgetary funds; about their tax and fiscal policy and shared their strategic view about the country's security, foreign policy and territorial integrity.
The Labour Party's prime ministerial candidate, Shalva Natelashvili, the Christian-Democratic Movement's Giorgi Targamadze and the United National Movement's (UNM) Vano Merabishvili, were given three minutes to present their positions and an additional minute for debating with the opponents and defending their views.
"The meeting would have been more interesting among all the candidates," Vano Merabishvili said, stressing that by participating in the debates, Ivanishvili would have respected the GPB and the people.
Recollecting the reforms carried out by his team since the Rose Revolution, the acting PM said there is still much to be done in Georgia. He said the UNM's well-scheduled program would give more benefit to individuals by creating new jobs, providing increased accessibility to healthcare, the development of Georgian villages and the distribution of 1,000 GEL vouchers.
Merabishvili said the UNM has fulfilled all the promises given to people in previous years and said that overcoming unemployment rates is his party's main challenge and priority. He said the State Ministry of Employment will gather information about job-seekers in a special database for training and improving their qualifications and added that 80, 000 new jobs will be created in Georgia by investing 4 billion lari in various fields and sectors.
Giorgi Targamadze said the UNM still needs to fulfill the promises given in previous "agreements." He said Georgia's territorial integrity has not been restored during Saakashvili's presidency, Georgia has not become a full member of NATO, there is no freedom and democracy in the country, and people lack welfare. He said Georgia has few millionaires but instead has an army of poor people, that is why the current government "do not deserve" a new agreement.
Targamadze promised to strengthen farmers and develop small and medium entrepreneurship in a competitive environment as well as introduce fair tariffs. He said business should be the partner of the state oriented on new investments.
Targamadze's main priority is social obligations. He said the CDM will increase pensions, salaries and scientific grants. By decreasing personal expenditures of the government officials, Targamadze hopes to save state resources and cover domestic and foreign debts.
"Our stance on Georgia's integration into NATO will be the first law we will adopt in parliament if we come to power," Shalva Natelashvili said, discussing the country's foreign policy. He called NATO adventures "other countries' wars" and vowed to pull Georgian soldiers out of Afghanistan.
Natelashvili also advocated the restoration of trade and economic relations with Russia. He said jobs in Georgia are created for Chinese, Turkish and Iranian workers, while the farmers should have an opportunity to export their products to the northern neighborhood. He said the UNM has reached "the limit of lies" and should leave the government.
But Giorgi Targamadze said NATO is Georgia's "national goal" and an additional factor in Georgian-Russian negotiations about the country's territorial integrity.
Talking of Georgia as the safest country in Europe, Merabishvili spoke of integration to Euro-Atlantic organizations as the only alternative for Georgia. The PM also approved of cooperation with Russia. "But not on behalf of returning old staff," he referred to Ivanishvili's team members.
"Today's debates confirm that there is a democracy in Georgia. Each candidate has an opportunity to address Georgian citizens, but unfortunately some of our friends have not used this right," PM Merabishvili said in his closing remarks.
Bidzina Ivanishvili commented later that he did not refuse to debate. He said he did not approve of the format and called the GPB to organize "real debates".