Saakashvili visits Marneuli
By Gvantsa Gabekhadze
Wednesday, September 12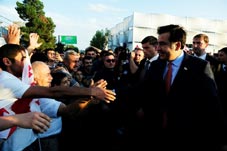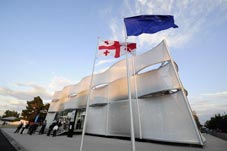 President of Georgia, Mikheil Saakashvili, visited the Marneuli region on September 11 and opened a new House of Justice and other modern buildings.
The president emphasized that Marneuli residents will now be able to receive a variety of services in the one building.
"The House of Justice is just beginning," the President stated and underscored that 67 local residents have been employed at the new office and 260 men were involved in the construction process.
Saakashvili also visited a newly opened ultra-modern branch of TBC Bank in Marneuli, where 25 individuals are employed, mainly residents from the region.
The Saakashvili explained that having multiple banks in the region is very important for Marneuli's economic potential.
"Very hard working people live here; agriculture and commerce are the most developed in Marneuli. Opening such buildings here will promote the advancement of Marneuli and more integration of the locals into society," the President said.
Saakashvili also visited a cultural entertainment centre called the Tea House in Marneuli. Georgian language, painting, computer technology, traditional knitting and dancing are being taught there.
Saakashvili said that 8 years ago he had to speak Russian while meeting with local residents, as a majority of residents could not understand Georgian.
"Currently, I speak to the locals in Georgian and a great majority understands what I say. These people are our strength," he said, pointing out that the current Georgian leadership has managed to take a step forward in the integration of ethnic minorities into the rest of the Georgian population.
The President also opened the monuments of Shota Rustaveli and Nizami Ganjev in Marneuli. In addition, Saakashvili presented an award to the president of the Socar Oil Company, Rovnag Abdulaev, with the Presidential Order of Excellence.
According to the statements made by the Public Defender's office, compared to the former years, the situation concerning ethnic minorities has improved. There are no complaints of abuse from the side of ethnic minorities.
The Public Defender's office however, states that problems regarding the provision of books for national minorities and ensuring the teaching of the Georgian language is still a problem. The office also states that national minorities still have serious problems in getting information in the languages which are understandable for them.
According to the NGO Multinational Georgia, ethnic minority issues are on this year's agenda– especially during the election period.