Dispute over Liberty Bank shares
By Ana Robakidze
Tuesday, October 23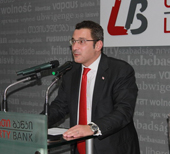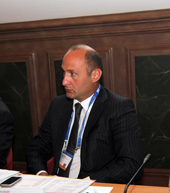 Liberty Bank, one of the largest banks in the country, run by the former prime minister of Georgia and former General Director of Bank of Georgia, Lado Gurgenidze, was founded in 2002 and sold to a British Investment company for $12.51 million in 2009.
Irina Jincharadze, Aliona Kovalenko and Giorgi Goguadze, who originally were the largest shareholders of Liberty Bank, holding 24.88%, 20.18% and 9.59 % of shares respectively, want their stake in the bank returned, as they say it illegally was taken away from them. However, it is still unknown what basis their claim is established upon. A special press-conference was also arranged but no official statement was made by the ex-bankers. Giorgi Goguadze revealed that after the planned press-conference was announced, he was contacted by the representatives of Liberty Bank and the National Bank and offered to negotiate.
"We are starting negotiations and I promise to keep you updated. As far as holding consultations, we will refrain from making the statement planned for today," Goguadeze commented on Monday. He is supporting the advice given to businesspeople by the new government and agrees that negotiations should be the solution to all problems, rather than a court. Members of the current board of Liberty bank are abroad and as Goguadze informed journalists, a meeting will be held within several days, as soon as the bank managers are back in the country.
The bank appeared to be in a very difficult situation due to unclear reasons in 2008 and was on the edge of bankruptcy and shareholders were forced put their shares up for sale in 2009.
Liberty Bank, providing service to one of the largest number of customers, is mainly focused on social projects. Goguadze assured journalists that neither he nor others trying to return their shares are going to change the profile of the bank and cancel any of the ongoing projects. Negotiations should not have any negative impact on customers and on the bank staff.
Lado Gurgenidze, the General Director of Liberty Bank, also held a press conference on Tuesday and announced that neither him, nor any other members of the bank management team have ever contacted Goguadze or offered him any formal negotiations. "The situation was opposite, Goguadze himself contacted me over the phone on Friday," Gurgenidze said. "I have never contacted him, and I am not going to, because of a simple reason that there are no existing "problems" to negotiate over, hence no talks are needed."
Gurgenidze revealed another version of how the bank appeared in the hands of the current holders. According his statement, 91% of the shares were purchased in 2009 from the people who owned the bank at that time, not from Goguadze or other people who are trying to re-coup their shares. About 30 million USD has been invested since then and the shared capital has been increased with an additional 41 million. Gurgenidze says that the bank was brought back to life by the new owners after being "clinically dead" in 2008. The management is currently holding talks with future investors and Gurgenidze fears that "irresponsible" statements made by Goguadze can be harmful to the process."