Georgian Democracy: More than just a slogan
By Etuna Tsotniashvili
Monday, October 29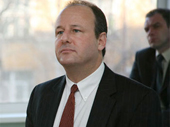 Eric Rubin, Deputy Assistant Secretary, Bureau of European and Eurasian Affairs, has assessed Georgia's parliamentary elections held on October 1, at the Center of National Interests.
"The elections of October 1st proved that Georgian democracy is more than a slogan," stated Rubin, adding that the ongoing transition from one governing party to another is setting a standard for new democracies everywhere. "Problems and challenges still abound, of course, and it would be foolish to declare that Georgia has completed the goals it has set for itself in its transformation into a fully democratic, free society that is integrated with the Euro-Atlantic community. But my bottom-line reaction to the events of the past month is resoundingly positive. Georgia and the Georgian people continue to impress," he added.
In his remarks, Eric Rubin has reiterated that the United States did not have a favored candidate in the parliamentary elections and if they had "our candidate was Georgian democracy and the 'Georgian project' that saw Georgia conclusively distinguish itself as a regional leader in democratic reform."
Rubin said that the October 1st elections were not perfect, although they trust and agree with the OSCE/ODIHR election observation mission's preliminary assessment that the elections "marked an important step in consolidating the conduct of democratic elections, although certain key issues remain to be addressed."
According to Rubin the Georgian people participated peacefully and actively in the October 1st parliamentary elections. So he marked two points which have been evident during the elections. One is that Georgian people turned out to be ready for a change which they got it and second, the resulting parliament – with no party achieving a constitutional majority on their own.
Rubin has highlighted the partnership between Georgia and United States saying that cooperation with new government will go on.
"We have a very useful framework for our continuing dialogue with Georgia: the Charter on Strategic Partnership and the associated U.S.-Georgia Strategic Partnership Commission. This dialogue is built on four pillars or areas of cooperation: 1) further strengthening Georgia's democratic institutions; 2) deepening our cooperation on regional and global security issues; 3) boosting economic ties; and 4) deepening people-to-people cultural exchanges. Let me give a few details of where we are going in each area. We plan to hold regularly-scheduled sessions of the Commission and its working groups, starting as early as next month with members of the new government," Rubin said.
The Deputy Assistant Secretary emphasized that despite many disagreements Ivanishvili and Saakashvili had a common view regarding the country's future and they want to continue on the path to Euro-Atlantic integration and eventual NATO membership.
"The United States strongly supports Georgia's NATO aspirations. As the Alliance declared in Bucharest and affirmed in subsequent summits, Georgia will become a member of NATO, and we share a common goal of preparing Georgia to join the Alliance and supporting it in this aspiration. We are working closely with Georgia to assist its reform agenda to ensure it meets NATO membership standards," he added.
In his conclusion, Eric Rubin touched upon Georgian-Russian relations and reiterated that the US supports towards Georgia's sovereignty and territorial integrity. He said that states will continue to call on the Russian Federation to comply with the commitments it made in 2008 to withdraw to previous military positions and to allow international observers on both sides of the Administrative Boundary Line. However, Rubin said that they will support improvement of both countries' relations between each other.
"We strongly support an improvement in relations between Georgia and Russia. We see no contradiction between a vibrant and healthy Georgian-American relationship and a vibrant and healthy relationship between Georgia and Russia."