Ivanihsvili calls the first meeting of his cabinet
By Ana Robakidze
Tuesday, October 30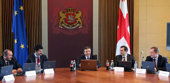 Bidzina Ivanishvili called together the new cabinet for the first official working meeting on October 29th. The new ministers reported on the current situation in their institutions, including financial conditions, as lately the state budget has been discussed frequently. Ministers of Justice, Defense, Internal Affairs, Education and the Penitentiary presented Ivanishvili their candidates for the post of deputy-ministers.
Creating a fund of 1 billion, in order to develop agriculture in Georgia was one of the major issues discussed during the meeting. The fund will operate in accordance with the state budget and will help to bring additional foreign investment into the country.
David Kirvalidze, the Minister of Agriculture was unable to specify what part of the fund will be financed by Ivanishvili's own money, however, he confirmed that the fund will mainly be made up of the financial aid provided by international donors. Kirvalidze also informed journalists that David Shervashidze will become one of the deputy-ministers.
U.S. Ambassador to Georgia, Richard Norland, was also visiting the government's office and forwarded Ivanishvili's official letter of congratulations from President Obama. The letter, dated October 25th says:
"Your government now inherits the task of moving forward to solidify and advance Georgia's democratic and economic reforms. This will require the government, parliament, and presidency to move past the contentious election and transition period and work together constructively to pursue policies that are in the best interest of all Georgian citizens. I understand from Ambassador Norland that this is your preferred approach, and in this you have our continued support."
Assessing the latest election as a "historic milestone," Obama hopes that the strong partnership between the two countries will be maintained. In the letter, the US president once again reiterates that his country supports the "democratic transition and Euro-Atlantic aspiration" of Georgia.
Ianishvili expressed how grateful he was for the U.S, supporting Georgia for so many years. "U.S has invested and helped a lot… we should say thank you to President Obama and the U.S administration for the attention" Prime Minister said in his TV interview on October 29th.