Committees debate on setting up an investigation commission
By Ana Robakidze
Wednesday, November 7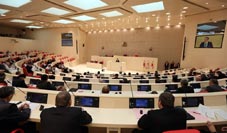 The joint session of Legal and Procedural Issues Committees of Parliament turned out to be very tense. The ruling party and the UNM could not agree on the formation of a provisional investigation commission, which is being set-up to study crimes committed by the previous government and reveal suspects.
According the draft law the UNM provided, members of the ruling party will take less seats in the commission than the UNM will and the candidates for the chair should be named by the minority. The UNM claims that the mentioned principle of forming the commission was offered by the Georgian Dream within the framework of the election campaign and they are expected to follow their own draft.
MP Pavle Kublashvili said on the committee session that in the case that the previous government has committed any crime, an investigation should be done by state law enforcement bodies. The Georgian Dream does not believe that the members of the previous government will be able to investigate the cases properly, as they cannot be objective.
One of the arguments that the UNM has, is that there were two investigation commissions operating within the previous parliament and both chairs were from the opposition, referring to Paata Davitaia and Konstantine Gamsakhurdia. The new opposition is sure that the commission the Georgian Dream is going to create is not meant for an investigation, but for political intimidation of the previous government's representatives.
The Georgian Dream is not going to provide the UNM with a majority of seats in the commission. Vakhtang Khmaladze, the chair of the committee session explained that some of the legal regulations may make setting up the investigation commission more complicated; therefore, further changes in the law or even the Constitution cannot be excluded.