Akhalaia returns but tough questions remain
By Salome Modebadze
Wednesday, November 7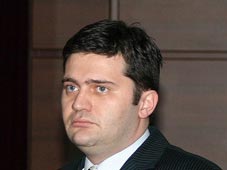 An investigation studying Bacho Akhalaia's violations of his official duties was launched on November 6. Late on Tuesday night, the former Minister of Interior Affairs (MIA) was called to the General Prosecutor's Office to answer the questions about the improper treatment of particular individuals.
Prosecutor General Archil Kbilashvili said earlier that Akhalaia was not the subject of persecution and Akhalaia would be questioned after the investigation proves his guilt. He said although the prosecutor's office cannot act without evidence, there is no necessity to rush and worry.
After the video footage emerged showing the torture and abuse of inmates at the Gldani prison facility became public on September 18, Bacho Akhalaia left his post at the MIA and left the country. Having returned to Georgia on November 5, the former minister said he would cooperate with any investigation in order to put an end to "the cascade of accusations" against him.
In an interview with Radio Tavisupleba, Akhalaia said he temporally left the country and waited for the full transition of power to take place before returning.
Now that he is back, he says that he is ready to provide comprehensive answers to any questions including the situation at prisons.
Minister of Corrections and Legal Assistance, Sozar Subari, said Akhalaia should pay for the death and torture of inmates and recent unrest in Georgia's prisons. He said that the wasted millions at the Ministry of Defence is also Akhalaia's responsibility.
Iralki Sesiashvili, Chairman of the Parliamentary Defence and Security Committee, thinks that not only Akhalaia but other former officials also need to answer questions before a court of law.
"It is time to restore justice," Viktor Dolidze, Chairman of the European Integration Committee said, stressing that although the parliamentary investigative commission will study the activities of Akhalaia and his team members, it is up to the independent court to make the final verdict.
UNM MP Givi Targamadze said Akhalaia's "presumption of innocence" should be respected and no direct accusations should be made against him before "competent conclusions are made."
"I think it does not only refer to Bacho, there are many accusations [against the former government] in general. All the competent bodies are in the hands of the new government," he said, encouraging everyone to wait.
Nana Kakabadze chairperson of the NGO Former Political Prisoners for Human Rights, thinks that it will be hard for the general prosecutor's office to gather authentic evidence against Akhalaia, because the former government had enough time to destroy them. She believes that if Akhalaia begins to feel heat from the state, he will escape.
According to Mamuka Areshidze, an expert in Caucasus issues, Akhalaia might have several reasons to return. Areshidze thinks that Akhalaia has made a lot of enemies, thus cannot live abroad for a long time; or else his steps might be the part of UNM's political game.
According to Areshidze, if the new government would have arrested Akhalaia, he would have played the role of a political refugee.
But Akhalaia said Areshidze's opinions are "philosophical" and "baseless."