Georgian FM attends NATO Ministerial
By Ana Robakidze
Wednesday, December 5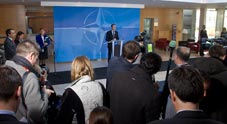 NATO Foreign Ministers have gathered in Brussels to hold meetings on December 4-5th. "Obviously, this is an opportunity for the ministers to review the progress made in implementing the decisions of the Chicago Summit in May. The aim is to re-energize relations with Russia, further enhance our partnerships, our relationship with our partners– including Georgia and to review the transition process in Afghanistan and our support for the Afghan security forces after 2014." NATO Spokesperson, Oana Lungescu said at the pre-ministerial briefing on November 30th.
Georgian Foreign Minister Maia Panjikidze is also attending the ministerial. "The ministers will meet with their new Georgian colleague, Maia Panjikidze, in the framework of the NATO-Georgia Commission. They'll discuss foreign policy and reform priorities of the new government, including its objectives to further strengthen democratic institutions and advance on the path of the Euro-Atlantic integration." Lungescu told journalists.
Panjikidze already held a meeting with the Minister of Latvia Edgar Rinkevich. She will also hold talks with the counterparts from, Romania Titus Corlatean, Hungary's Janos Martonyi, Bulgaria's Nikolay Mladenov, France's Loran Fabius, Great Britain's William Hague, Czech Republic's Karel Schwarzenberg and Turkey's Ahmet Davutoglu. She will also attend a working lunch within the framework of the ministerial.
Georgia intends to strengthen its strategic partnership with NATO, Panjikidze told journalists in Brussels. She will deliver a speech at the NATO-Georgia Commission meeting on December 5th. The minister is going to speak about the action plan and the strategy the country has chosen on the way to integration with NATO. Panjikidze will answer the questions of Foreign Ministers.
"A dedicated partner and one of the countries which aspires to join the Alliance," is how Secretary General, Anders Fogh Rasmussen referred to Georgia. "We will recognize the progress that Georgia has made and encourage all parties to keep up the momentum of democratic reform. Georgia has shown exemplary commitment to our mission in Afghanistan and tomorrow, we will discuss with all our partners in ISAF the question of long-term funding for the Afghan forces as part of the broad international effort. This is an essential part of our shared strategy for a stable Afghanistan." The Secretary general and Panjikidze will meet on December 5th and discuss the ways of enhancing the partnership and also the Afghanistan mission, where Georgia has doubled its contribution to the NATO-led operation.