50, 000 GEL donation to Children with Disabilities
Wednesday, December 5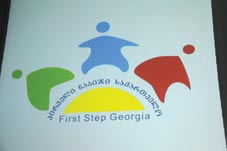 First step Georgia's 'Winter GALA Dinner & Dance
On Friday, November 30, 2012, First Step Georgia (FSG) held a Charity Winter Gala Dinner and Dance at the Tbilisi Concert Hall. The venue and the music have been donated by the Tbilisi Concert Hall and the Tbilisi Big Band to allow a greater percent of the raised funds to go directly to the needs of children.
The evening was full of music, energy, joy and a charitable spirit. A special gift for all who attended the Gala came from the Brazilian Embassy. His Excellency Ambassador of Brazil to Georgia, HE Carlos Alberto Asfora, played his guitar and sang the night over with the Tbilisi Big Band. Magnificent jazz singer Maia Baratashvili was the anchor of the evening and sang some unforgettable duets with Carlos Asfora.
Respected guests from the Georgian Government, representatives of the diplomatic corps, leading businesses and individuals attended the GALA with the important goal of raising awareness and funds to support more children with disabilities in Georgia.
Everyone had a great time and this was certainly one to remember. A number of people commented on what a great mix of people was in attendance and how this gala had terrific energy. There were a lot of new faces there and happily, they were all smiling! Most people were up, moving around, talking, dancing and interacting.
Proceeds from the event will go directly to support programs for children with disabilities and will enable a significant number of children with special needs to access the services provided by First Step Georgia (FSG) through their Day Care Centers, Early Intervention Programs and Home- based care programs.
"We have a feeling that this night laid the way for some longer term sponsors. People came away with a much better understanding what we do– the photos and the movie really seemed to make an impact. With our very special auction and raffle with the items donated from outstanding Georgian artists and with the support of our gold and silver sponsors, friends and all those who in any way contributed to the Gala, we managed
to raise 50,000 GEL during the evening
. That is an amazing number! Big thanks to all who came and contributed to First Step Georgia!