Tbilisi International Film festival opens its doors
By Salome Modebadze
Wednesday, December 5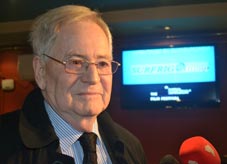 Smiling guests on a red carpet with glasses of wine and sharing emotions from the new film by Hungarian director Istvan Sabo's
The Door
at Amirani cinema on December 3...
"I cannot tell you how I like your city, how I like your people, and how nervous I feel about how my film will function in the cinema," Istvan Sabo told
The Messenger
.
Sabo's film was directed in 2012. It depicts the human relationship between younger and older women "who learned to get to know each other and learned to like each other." The film is about how easy (friendship) is to break and how difficult it is to build-up.
"When I started to do the film, I asked myself what is unique in film-making; what is it that you cannot express in literature, in painting, or in music..? What can you show only on the big screen, or only on the television? This film presents the possibility for me to show only three faces with no action, no sex, only the relationships... Thank you for giving me an hour and thirty minutes from your life," Sabo addressed the audience before the film started.
On Monday Tbilisi International Film Festival (TIFF) opened its doors at Amirani and Rustaveli cinemas for everyone interested in avant-garde films from all over the world.
130 films from different parts of the world, more than 90 international guests, Q & A sessions with actors, directors and producers will be an essential part of the 13th Tbilisi International Film Festival.
"We want to provide an opportunity to the young professionals and ordinary cinema-goers to meet with the film-makers not only at the cinemas but also at the festival's club this year," Gaga Chkheidze, General Director of TIFF said, stressing that the audience has always had a decisive role in the festival.
Chkheidze also hoped that the festival will become an impulse for developing the Georgian film industry.
Ministry of Culture, Tbilisi City Hall, the Georgian National Film Centre, Institut Francais, the Goethe Institute, British Council and Swedish Embassy are annually supporting the international program. The Ministry of Foreign Affairs is also supporting the project for the first time this year.
Calling it a bridge for Georgia for making new contacts and promoting and discovering young Georgian film-makers, Deputy Minister of Culture, Marina Mizandari, said the festival is a huge cultural event.
Every day from December 3-9, TIFF will offer a variety of tasteful, intellectual and emotional films to all cinema aficionados.
For the complete schedule, please go to:
http://www.tbilisifilmfestival.ge/uploads/program_2012/Programa_2012_Eng_optimized.indd-2.pdf