General Prosecutor speaks to the media
By Salome Modebadze
Wednesday, December 5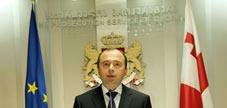 Georgia's Prosecutor General, Archil Kbialshvili, said he never makes political statements and his every comment is based on legal norms. Meeting with the media on December 4, Kbilashvili said the prison scandal case is practically clear and the public will receive comprehensive information in several days.
He said some facts still need to be certified. However, the investigation uncovered many new details.
The video footage about torturing inmates at the Gldani prison facility became public at the end of September, 2012. The prosecutor general said the public will receive answers to all the questions of what happened at the penitentiary facility, how this all happened, what were the circumstances and what was the goal [of the torturing].
He said a number of officials are connected with the 2006 unrest in the prison; however, the issue also remains under investigation.
According to Kbilashvili, several much-talked about of cases of murder will be uncovered in the near future including the death of Buta Robakidze and Zurab Vazagashvili.
Kbilashvili said there is new information about the murder of Sandro Girgvliani as well. "Everyone connected with the case will be questioned," he said and the investigation of the former Prime Minister Zurab Zhvania's death is "in its middle stages".
"We are certifying the versions [of death]," Kbilashvili said, adding that the detained former Security Minister, Irakli Okruashvili, will also be questioned about the above mentioned cases.
Archil Kbilashvili said he will meet with the media regularly in the future as "a demonstration of the openness" of his office.
Meanwhile, the lawyers of the former Head of the Constitutional Security Department (CSD) Data Akhalaia, together with other CSD officials Soso Topuridze, Geronti Alania and Oleg Melnykov, discouraged charging their defendants with pre-trial detention without their presence on December 4. Akhalaia was accused in the illegal oppression of freedom and violation of official duties; while the others were accused of violating official duties.
Data Akhalaia's lawyer, Irakli Zakareishvili said there is no fact-based evidence against Akhalaia. Zakareishvili accused the prosecutor's office of violence.
"I challenge Kbilashvili to a debate!" Zakareishvili addressed the General Prosecutor, stressing that people should define the truth and slander around Akhalaia's case.
The lawyer said he will publish the testimonies of the witnesses regarding Akhalaia's case and prove the innocence of his defendant. "This is an example of illegal treatment and political persecution," Zakareishvili said, stressing that the testimonies prove that the charges against Akhalaia are groundless and that they simply aim at presenting a "desired reality" rather than "real evidence."