President Saakashvili criticizes the new government
By Ana Robakidze
Friday, December 21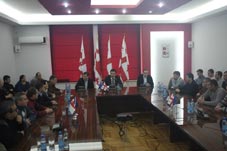 President Mikheil Saakashvili claims the Georgian people want the previous government back, as the new Georgian Dream government is trying to destroy what his government accomplished. "The most important thing we have created is Georgian statehood, democratic institutions, the Georgian army, the Georgian police." Saakashvili said while meeting Rustavi Assembly members on December 20th. He is sure that even 50 years time will not be enough for Prime Minister Bidzina Ivanishvili to destroy all the buildings the President and his government built.
President spoke about the current government the day before in Kutaisi, while speaking with members of the Kutaisi City Council (Sakrebulo) from the United National Movement (UNM). Saakashvili said the new government managed to make more mistakes in one month than the UNM party did in nine years. Therefore according to President Saakashvili, Georgian Dream candidates will have no chance winning the 2013 Presidential election or the 2014 local elections.
Saakashvili also promised that his party will not give up and he will get Georgia back on track leading to further development. "I will struggle together with you to the end in order not to stop the country's development." President said in Kutaisi.
The meeting in Kutaisi was followed by a demonstration by dozens of protestors in front of a local office of the UNM where President was meeting lawmakers from his party.
The demonstration led to an incident where several protesters acted aggressively and a number of UNM members were insulted. Security guards present had to act quickly to ensure the President's safety when he left the meeting.
The incident was strongly condemned by both GD and UNM representatives. PM Bidzina Ivanishvili issued a written statement calling on law enforcement agencies to investigate the case immediately and prevent such incidents from occurring in the future.
Parliamentary Chairman Davit Usupashvili criticized the police, saying that they failed to do their job by not preventing the incident in Kutaisi. Usupashvili added that he cannot tolerate freedom of expression lapsing into violence.
President Saakashvili initially expressed surprised at the Kutaisi incident, before explaining that the protesters were Georgian Dream activists. He thinks that the police were instructed not to prevent the incident and allowed those individuals to act aggressively, adding that he received many messages of apology on his Facebook page.