Tsulukiani and Alasania on official visits abroad
By Ana Robakidze
Friday, February 22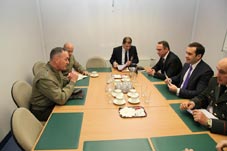 Minister of Justice Thea Tsulukiani is paying an official visit to the U.S. On the first day of the visit the Minister held meetings with the President of National Democratic Institute (NDI) Kenneth Wollack, as well as with the President of the National Endowment for Democracy Carl Gershman. NDI is an important partner for the Ministry of Justice, having helped with reforming the election code and verifying a complete and accurate voters' list. The meeting with Carl Gershman was closed to the media. According to unofficial sources Tsulukiani spoke about the changes proposed by the new government which are mainly aimed at furthering democracy in Georgia.
At the U.S. Department of State Tsulukiani met with Eric Rubin, Deputy Assistant Secretary in the Bureau of European and Eurasian Affairs and Thomas Melia, Deputy Assistant Secretary of State in the Bureau of Democracy, Human Rights and Labor.
The Minister also participated in an inter-structural round table, attended by representatives of the White House, the Department of State, Department of Justice, the Vice Presidentís office, the Defense Department and USAID.
At the end of the day the Minister visited the U.S. Atlantic Council and met with Executive Vice President of the Atlantic Council Damon Wilson and Frances G. Burwell, an Atlantic Council vice president, and Director of the Program on Transatlantic Relations at the Atlantic Council. The Georgian Ministry of Justice reports that Tsulukiani spoke about the results of the first 100 days of the new Georgian government. According to Tsulukiani, representatives of the Atlantic Council were mostly interested in the reforms carried out by the Ministry of Justice.
The Atlantic Council strongly encouraged Tsulukiani to strive to firmly establish the rule of law in the country and protect human rights.
Damon Wilson stated that he finds it very encouraging that Tsulukiani and the Ministry of Justice are working at positively reforming the Georgian justice system. Wilson also spoke about Georgian Minister of Defense Irakli Alasania and his role in Georgiaís integration with NATO. Wilson is confident that Alasania is capable of helping Georgia undergo necessary reforms to meet NATO standards and gain further support from the organization.
Irakli Alasania is currently visiting Brussels. He has already held meetings with NATO Deputy Secretary- General Alexander Vershbow and NATO Secretary-Generalís Special Representative in the South Caucasus and Central Asia James Appathurai.
According to the official webpage of the Defense Ministry, as part of the visit Irakli Alasania will hold meetings with NATO Secretary-General Anders Fogh Rasmussen and Commander of the International Security Assistance Force General Joseph F. Dunford. The Georgian Defense Minister will attend the meeting of NATO defense ministers with non-NATO ISAF contributing nations. As part of the visit Irakli Alasania will also hold talks with defense ministers of NATO members and partner countries.