Zurab Abashidze and Grogory Karasin meet in Prague
By Ana Robakidze
Monday, March 4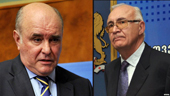 The second meeting between the Georgian Prime Minister's special representative for relations with Russia Zurab Abashidze and Russia's Deputy Foreign Minister Grigory Karasin, was held in Prague, on March 1.
According to the Russian Foreign Ministry, the meeting was constructive and progress was made on a number of practical issues. The parties discussed trading and cultural relations, restoring transportation links and in particular, the restoration of regular flights and visa regulations between the two countries.
Zurab Abashidze said science and healthcare were identified as two additional areas that should become part of the discussions in the frames of this bilateral dialogue in future. He also announced that work is underway on restoring transportation links, as both sides had agreed that transportation links are vital for future trade relations.
The possibility of easing the existing visa regime for Georgian citizens was also discussed at the meeting. Georgia has already unilaterally lifted visa rules for all Russian citizens.
"The Russian side is considering easing the existing visa regime," Abashidze said after the meeting. He added that for the beginning, easing of visa rules would probably apply to certain categories only, such as Georgian citizens who are invited to Russia by different organizations, students and possibly tourists. However, no time frame of when it might happen has been specified during the talks.
Parties also touched upon the issue of the 2014 Sochi Olympic Games and agreed that the details would be discussed by the national Olympic Committees of the two countries, as well as by the organizers and the international Olympic Committee. Zurab Abashidze told the Georgian Service of Radio Liberty that for the Georgian side it is important that only the member countries of the international Olympic Committee participate in the Olympic games. Georgia finds the possibility of Abkhazian and South Ossetian athletes to participate in the games unacceptable.
As it had been announced earlier, Georgia is going to participate in the 2014 Olympic Games.
The meetings are going to be held in the future as well. According the Russian Foreign Ministry, the next meeting between Abashidze and Karasin will take place either in late May or in June. Emphasizing the importance of the Geneva talks, the Russian Foreign Ministry says that parties stressed in Prague that that meetings in this format do not touch upon the set of issues which are being discussed at the Geneva discussions on security and stability in the Trans-Caucasus.