Davit Usupashvili holds official meetings in the U.S.
By Ana Robakidze
Wednesday, March 13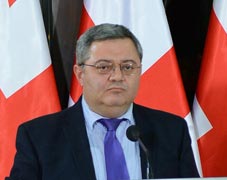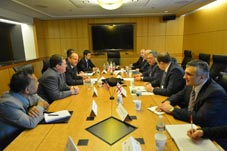 Davit Usupashvili is paying his first official visit to the US as Chairman of the Georgian Parliament.
Before kicking-off his official meetings Usupashvili met with the Georgian media in Washington and spoke about the major goals of his visit. He said the Georgian government is not going to make changes in its relations with the US. Moreover, the bilateral relations only deepened and improved– especially in the fields of economics and trade. "Georgia's main message is that after the change of authority, our course in terms of the US will positively be changed– improved in all directions, which were initiated by the previous government. We will try to find new directions as well, particularly in economics and trade," he said.
Speaker of the Parliament, David Usupashvili, Chair of the Committee on Foreign Relations, Tedo Japaridze and member of the Committee on Defense and Security, Irakli Chikovani, visited George Washington University and took part in the round table with experts interested in Georgia issues. The Parliament of Georgia reports that "the delegation members discussed the foreign policy direction of the new government in detail, as well as domestic political topics."
Davit Usupashvili stated after the meeting that its US partners are mostly interested in the development of democracy in Georgia. "We have provided the comprehensive answers to all their questions… Some of them will be visiting Georgia soon…I am glad that besides the governmental institutions, we have an opportunity to speak with the university circles and experts." He added.
"I told him that we very much admired his leadership and the leadership of his team in the parliament; that we know that they've had many difficult challenges in recent months; that we appreciated the work that he had done together with leaders of the opposition on the resolution on Georgia's diplomatic foreign policy and security orientation, on its Euro-Atlantic aspirations; that we were strongly supportive of efforts at constitutional reform that are aimed at ensuring the life and stability of this constitution," Eric Rubin said after the meeting.
Usuapashvili also met with the deputy-Secretary of State Maria Ivanovich, Eric Rubin and Thomas Melia and discussed issues of strategic cooperation, NATO integration, democratization of the country and the constitutional changes. The Georgian delegation also met with representatives of the state department, who work on Europe, Caucasus and Georgia issues. The parties also touched upon the planned constitutional changes in the country and agreed that the constitution shall not be adjusted to one person. Eric Rubin, the deputy-Secretary of State, confirmed that he supports constitutional reform in Georgia.