Controversial rally to take place on Rustaveli Avenue
By Ana Robakidze
Friday, April 19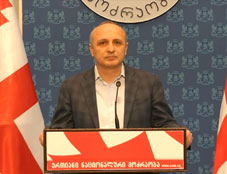 A United National Movement (UNM) demonstration will be held on April 19th as was previously announced. According to UNM spokesperson Giorgi Pataraia, the UNM is still working on some details. However, it is already arranged that participants will begin to gather on Rustaveli Avenue beginning at 4:00 PM (16:00).
On April 18th-19th MPs from the UNM will not able to take part in their daily tasks at Parliament due to the planned demonstration, United National Movement MP Davit Bakradze announced earlier.
UNM members are expecting some provocation from the ruling party, as they are sure Georgian Dream is concerned about the demonstration. The UNM added that they are expecting a huge show of support on April 19th.
UNM Secretary General Vano Merabishvili said at a press conference that the current government is afraid of the day (April 19th) and will try to make sure people do not participate in the rally. "April 19th is not the day when everything will end, it is the day when things will begin." Merabishvili said, adding that some UNM members have been under pressure from the ruling party.
Originally it was announced that a demonstration would be held for one reason, to show the Georgian public's support for the country's pro-Western foreign policy and aspirations to join the Euro-Atlantic zone. However, it appears that the UNM and its Secretary General also have some other questions for the new government, such as why unemployment still remains a problem and why other promises given to the public have not been kept. "On April 19th we will reveal the mechanisms and instruments we are going to set that will make the government serve the interests of society and fulfill all duties." Merabishvili said.
For their part the ruling Georgian Dream party seems to be unconcerned over the April 19th demonstration. However, Georgian Dream representative Manana Kobakhidze advised the supporters of the government to avoid participating in the rally as the UNM may have planned some provocations.
"Nothing special will happen at the rally" President Saakashvili said in his statement published on his official web-page. The President advised the government to be more focused on fixing the everyday problems the public face, rather than "playing games with sovereignty".
Political analyst Mamuka Areshidze says the situation inside the UNM is tense and April 19th will be the day when the party chooses a new leader, as Saakashvili is about to quit. Areshidze says there are several rival groups inside the UNM and several members willing to replace Saakashvili as party leader. Areshidze is sure that Vano Merabishvili is now the major figure in the party, and he will be the one to announce the UNM's future plans and also determine who is going to be the new party leader.