Russian border guards construct barbed-wire along villages in Gori
By Ana Robakidze
Tuesday, May 28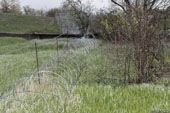 Russian border guards have started to expand the territories they have occupied in Georgia and started to construct barbed-wire along the village of Ditsi in the Gori region. Russians changed their outposts and relocated along the villages Ditsi and Dvani.
According to the information provided by the locals from Ditsi, the occupants have started to install iron-concrete barriers along the village, which is bordering one of the occupied villages, Eredvi. Barriers cross agricultural lands, therefore locals will not be able to work safely in their fields.
Mirian Mdinarashvili, a Ditsi resident, says Russians installed wire barriers in his own garden.
This is not the first attempt of Russia to try and create barriers. Barber wire along Eredvi was installed earlier. Another local, Ilia Beruashvili, says he saw Russians holding some maps, which they use for marking the territories and to indentify places for iron-concrete barriers.
The Ministry of Internal Affairs also confirmed the information and says that the action is illegal and it will be discussed at the incident prevention and response mechanism meeting, which will take place on May 31st. The meeting is held within the framework of Geneva Talks. Also the Ministry will ensure all diplomatic tools are used and detailed information is spread among partner countries.
"The MIA confirms the fact of constructing barbed wire fences in the vicinity of the village Ditsi by Russian border guards. The ministry confirms that it is an illegal activity by the Russian border guards. The issue will be raised on 31 May, during the Incident Prevention and Response mechanism meetings. Kakhaber Kemoklidze, representative of the Informative-Analytical Department of the Ministry said.
According to Zurab Chkheidze, the Shida Kartli region governor, it is time for the government to use all possible ways to stop the illegal actions from the Russian side. The governor fears situation can escalate and have a serious development. "As we can see, the Russian side has no interest in settling relations with Georgia… It is time for Georgia to use all international levers." Chkheidze said.
According to Shida Karti administration, Russian guards moved the occupation border several hundred meters.
Ministry of Foreign Affairs is going to react immediately and hand a protest note to the Russian Federation. Foreign Minister Maia Panjikidze says the ministry will take diplomatic steps to solve the situation in the conflict region.