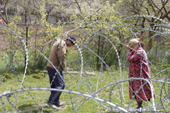 Russian troops continue the relocation of the occupation line along the conflict region in South Ossetia and have shifted the line deeper into sovereign Georgian-controlled territory.
(more)

Russian troops have detained a 24 year old resident of the village of Ditsi, Rostom Sosiashvili.
(more)
"Georgia can start importing liquid slag for cement production"
(more)