Opinions divided over the videotapes of sexual abuse
By Ana Robakidze
Friday, June 21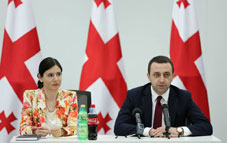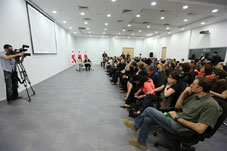 Minister of Internal Affairs (MIA) Irakli Gharibashvili held a meeting with representatives from the media and NGO's to discuss videotapes recently uncovered in Samegrelo which have created great public controversy. According to the MIA, the footage depicts law enforcement agents physically and sexually abusing men.
The public has been divided over the issue-namely whether the footage should become public and be aired on TV or not.
Several participants at Thursday's meeting decided to leave before the video tape was shown. Among them were Public Broadcaster journalists Eka Kvesitadze and Davit Paichadze and NGO representatives Kakha Kozhoridze, Nino Lomzharia and Eka Gigauri.
They explained later that they left the meeting because the anonymity of victims in the video footage could have been violated.
Nino Lomjaria, Chairman of the International Society of Fair Elections and Democracy (ISFED), said she left because of a "violation of human rights" by the MIA. Lomjaria described the screening of the video footage as unnecessary.
Many participants who watched the footage to the end were filled with indignation and have described the footage as absolutely shocking, depicting extreme inhumane treatment by police officers.
Tamar Gabisonia, a representative of the NGO 42nd Article of the Constitution, said after the meeting that it was very difficult to watch the footage and it should not be aired publicly. She also mentioned that the rights of victims have not been violated and their identification in the video was absolutely impossible. The faces were covered and voice muted by the Ministry and only English subtitles were available with the footage.
However some media representatives have requested publication of the video-footage. Editor-in -chief of the newspaper Kviris Palitra Giorgi Tevdorashvili commented that the video footage is simply horrible and depicts rape and physical abuse of individuals, but still should be made public. However, Tevdorashvili added that the footage should not be released through the media.
Gharibashvili also discussed the future investigation process at the meeting. Most agreed that the video material should not be destroyed, but instead should be used as evidence in the investigation process. Participants at the meeting also agreed that the crime is so severe that an investigation should not only try to punish the perpetrators but also those higher up in the chain of command who allowed, condoned and ordered such actions. Many suspect several former high ranking officials might have been involved in the case.
Many agreed that special court case should start against UNM as a criminal regime.