Making public polling matter in Georgia
By Messenger staff
Friday, June 21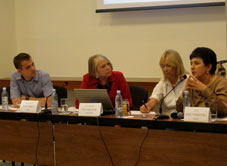 Nothing will stop politicians and citizens from criticizing poll results they do not like - suggests the conclusion of the report Making Public Polling Matter in Georgia commissioned by the Open Society Georgia Foundation and the Open Society Think Tank Fund, in partnership with international research associations ESOMAR and WAPOR.
Carried out in spring 2013 its aim was to evaluate polls carried out in Georgia in 2012. The reports compares Georgian polling practices with international standards and recommends ways to improve the quality of conducting, publishing and using polls in Georgia.
The panel of international experts interviewed more than 40 people associated with Georgian election and public opinion research; explored claims of respondents' unwillingness to be interviewed; researched criticisms of poor survey conduct and looked into news coverage about the election polls and the election campaign itself.
The poll results taken before last October's parliamentary elections widely differed not only from the final results but even from each other. The poll results were criticized for their accuracy, methodology and for the motives of those who had conducted them. As a result the report suggests that these same factors put the credibility of polls for Georgia's forthcoming presidential elections under threat unless urgent steps are taken.
Panel chair Kathelin Frankovic, former director of surveys for CBS News and a past president of WAPOR, recommended that Georgian polling organizations take steps as an industry to adopt international standards and guidelines and stressed transparency and disclosure of polling methods. Frankovic expressed her hope that Georgian polls will become reliable before the upcoming presidential election "...so that they can provide information for decision-makers about the hopes and desires of their electorate and useful information to Georgians citizens so that they are well informed and represented in political debate in their country."
The report finds that some Georgians' unwillingness to participate in polls due to concerns about privacy; media coverage which exploited polls as election PR and an unexpected campaign event reported two weeks before the election all negatively influenced pre-election polling accuracy.
The panel's findings strongly suggested that the Gldani prison scandal which emerged two weeks before the parliamentary elections changed voters' intentions favourably towards the oppositional Georgian Dream coalition.
"Those who use and report polls, including poll sponsors, media, and political parties, should improve their own understanding of polls through training and avoid treating unscientific call-in polls as professional ones." Head of OSGF Keti Khutsishvili said.
"All competent organisations working on polling should agree on a methodology and questionnaire principles to avoid dramatic differences among their results, increase public confidence and participation in polls." she added.
The report recommends that donor organisations provide polling experts and journalists with training opportunities, mandate quality and disclosure standards for polling projects they fund. The authors of the report also emphasized the necessity of creating a poll archive for wider public use.
"These improvements are not difficult to implement and now is the right time to take action." the report reads stressing that the next election will be good test for the Georgian polling industry, polling sponsors and media.