PM Ivanishvili pays his first official visit to Israel
By Ana Robakidze
Wednesday, June 26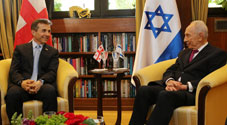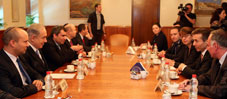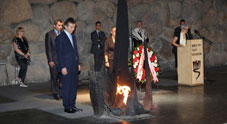 Georgian Prime Minister Bidzina Ivanishvili paid a two-day visit to Israel on June 23-24. The PM said ahead of his departure that he would like Israel to become a strategic partner for Georgia.
In Israel, Ivanishvili held meetings with his Israeli counterpart Benjamin Netanyahu and President Shimon Peres, as well as with Greek Orthodox Patriarch of Jerusalem, Theophilus III, Speaker of Knesset, the Israeli business community and Jews who emigrated from Georgia.
President Peres hosted Ivanishvili in his palace and thanked the Georgian PM for being a great friend to the Israeli people.
"I wish Israel to achieve the peace, which it deserves…The rest of the world should spare no effort in fostering the process, which would contribute to achieving the peace," Ivanishvili said at the meeting.
The two discussed mutual relations between the countries and the ways of deepening cooperation in various fields, including trade and cultural relations.
Mutual relations were discussed at the meeting with Israeli PM Binyamin Netanyahu also. The PMs agreed on a number of issues and on continuing cooperation in various field. They also signed an agreement on a cultural cooperation program.
Georgia should share the Israeli experience in agriculture and continue to cooperate with Israeli on economic and security issues, Ivanishvili commented after the meeting with his counterpart.
The Georgian PM opened a Georgian-Israeli business forum organized by the National Investment Agency of Georgia, Georgian Embassy in Israel and the Israeli Export and International Cooperation Institute on the second day of his trip to Israel.
The event was attended by about 80 Israeli and 25 Georgian businesspeople. Israeli companies represented various sectors including agriculture, industry, real estate and energy.
The forum is another opportunity for the companies from both countries to establish business relations. Within the framework of the event, several bilateral business meetings were held.
Also during his visit, Ivanishvili visited the holy places in the Old City of Jerusalem and met with Jews who emigrated from Georgia. The PM also visited the National Fund of Israel, laid a wreath at the memorial of victims of the holocaust and took part in a tree planting ceremony.
During the visit Ivanishvili was accompanied by the Foreign Minister Maia Panjikidze, Minister of Economy Giorgi Kvirikashvili, State Minister for Diaspora Issues, Konstantine Surguladze, the PM's adviser, Gia Khukhashvili and head of the Georgian National Investment Agency, Giorgi Pertaia.