Rasmussen: more to do yet before joining alliance
By Ana Robakidze
Thursday, June 27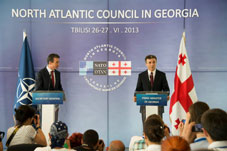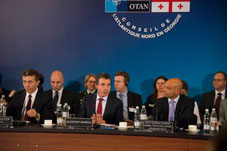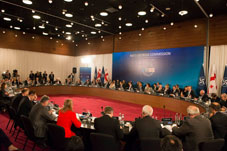 NATO Secretary General Anders Fogh Rasmussen appreciates the progress Georgia has achieved recently, but he says there are far more criteria to be met in order for it to join the alliance. Rasmussen made the statement in Tbilisi at a joint press conference he held together with the Georgian Prime Minister, Bidzina Ivanishvili.
The Secretary General arrived in Tbilisi on June 25th. He is chairing the North Atlantic Council (NAC). The delegation was invited by the Georgian authorities.
The NACl met with the President of Georgia and members of the parliament. Prime Minister Bidzina Ivanishvili will participate in the NATO-Georgia Commission, the main mechanism through which Georgia's cooperation with the Alliance is supervised.
The Secretary General says even though Georgia has had great success on its way to integration, it is still too early to speak about specific dates. "Georgia has already made remarkable reforms in various areas," Rasmussen said at the press conference, adding that now it is time for the country to focus on taking particular steps. He once again mentioned the readiness of the alliance to help Georgia on every stage of the integration process. Rasmussen advises the government to be oriented on developing democratic values and to pay the highest attention to human rights protection in the country.
The Secretary General reaffirmed that NATO remains devoted to the Bucharest summit decision that Georgia will be accepted to the alliance after it meets certain criteria.
According to PM Ivanishvili, Georgia is definitely making and will continue to make progress on the way towards NATO, despite the fact that the Russian federation will never accept Georgia's integration with the alliance.
"We realize that Russia will not be pleased, but this is the choice the Georgian people have made," Ivanishvili said at the press conference. The PM also spoke about the ISAF mission and confirmed that the country will continue to be a part of the peacekeeping mission in Afghanistan.
The NATO Secretary General appreciates that NATO is the choice of Georgian people. "I'd like to stress that Georgia has chosen its own path," Rasmussen said. According to him Georgia has approached the alliance a lot and NATO's door remains open for the new members. However, there is a lot more to be done to achieve the membership.
In the framework of the visit Rasmussen will hold bilateral meetings with Georgian Prime-Minister, the President, the Chairman of the Parliament, the leader of the Parliamentary minority and the Minister of Foreign Affairs. Also the delegation will hold meetings with the representatives of non-governmental and international organizations and the media.
The Secretary General had working dinner with the Minister of Defense and the Secretary of the Security Council. The NATO Secretary General also delivered a speech at the National Library in a meeting with students, and greeted Georgian soldiers prior to their departure for participation in the ISAF mission in Afghanistan.