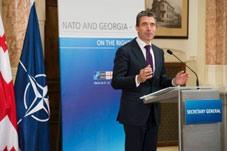 NATO Secretary General Anders Fogh Rasmussen and representatives of the North Atlantic Council (NAC) continued to hold bilateral meetings in Tbilisi on June 27th.
(more)
President Mikheil Saakashvili continues to criticize the current Georgian government. On June 26th Saakashvili stated that the government is "staging" demonstrations against him in front of his residences.
(more)
"About 30 municipal officials are interrogated"
(more)