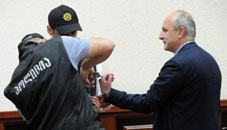 Members of the European Parliament's Defense and Security Committee, Arno Denzhan and Krzysztof Lisek, visited Former Prime Minister of Georgia, Vano Merabishvili in prison on July 17.
(more)
The Ministry of Internal Affairs (MIA) published the early results of the investigation on bringing Mamuka Mikautadze to the point of suicide.
(more)
"US want Georgians "to look ahead, not back""
(more)