Saakashvili says he was ready to say no to NATO to resolve conflicts
By Ana Robakidze
Friday, August 9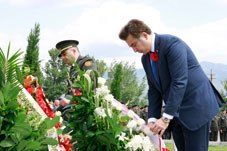 President Mikheil Saakashvili said that all his attempts to prevent war with Russia turned out to be unsuccessful as Russia was all the time preparing for war and aimed to "completely destroy Georgia".
In an interview with Rustavi 2, Saakashvili said that in August 2008 Georgia was not ready to engage in a war with Russia. "There were so many things we lacked. The summer of 2008 was the worst time for Georgia to engage in military actions and the Russians were well aware of it." Saakashvili said, complaining that the best military units of Georgia at the time were stationed in Iraq. He added that air defense systems bought from Israel and shipments of military equipment expected from Bulgaria had not been delivered by the time war broke out on August 8, 2008.
President said the country was not ready for the war but still it is totally incorrect to blame the conflict on Georgia. Saakashvili urged the current government to stop saying that both Russia and Georgia are to be blamed in beginning the war. Saakashvili described such statements as complying with Russian propaganda.
Saakashvili said in the interview that there was lack of reaction from the West to the Russian provocations which took place prior to the August War. As a result Russia was encouraged to start full-scale military action against Georgia. The president also spoke about the ways he tried to avoid confrontation with Russia. He said he even told Russian President Vladimir Putin, whom he met in Moscow in 2008, that Georgia would give up its aspirations to join NATO if it would help to resolve the conflicts in Abkhazia and South Ossetia. Later in June 2008, Saakashvili said he offered Putin a compromise which would have involved dividing Abkhazia into two parts. According to Saakashvili's offer, the Gali and Ochamchire districts would have been placed under Georgian control and the rest of Abkhazia, including the capital Sokhumi, would have remained under de facto Russian control.
According to Saakashvili, the Georgian people have to make a "concrete" choice: either reconcile with Russia or follow a path leading to the West and to the development of the country.
"If the Georgian nation wants to say 'no' to a significant part of its territory, if the Georgian nation wants to say 'no' to future development, to the Euro-Atlantic sphere… then of course there are certain possibilities with Russia." he said and explained that there is only one correct option-the pro-Western one. Saakashvili cautioned that if Georgia rejects "dignified, fast-track development" and begins moving back towards Russia, then the country might even lose its sovereignty. Saakashvili declared himself to be the first leader of Georgia who refused to "bow his head down" to Russia.
Speaking about the future, the president said that Georgians should not deceive themselves.
"Occupation is always followed by a de-occupation process. Russia has reached a point of historical deadlock…We will never have to be aggressive, but at the same time we should not deceive ourselves." Saakashvili declared.
Members of Saakashvili's United National Movement (UNM) say the president did everything possible to avoid war in 2008. UNM MP Davit Drachiashvili described Saakashvili's proposals to Putin as a pragmatic diplomatic step to defuse the tense situation with Russia. According to Darchiashvili, Putin's reply that Russia would never recognize Georgia's territorial integrity, made it clear that NATO remains the only way for the country to survive.
Political expert Mamuka Areshidze says he has no doubt the war in August was started by the Russians, but he finds the president's statements confusing and even insulting. "If Saakashvili had doubts about integration with NATO, he should have informed the public from the very beginning." Arehsidze said, referring to Saakashvili's statement that he was ready to give up Georgia's aspirations to join NATO for the sake of solving relations with Russia. According to Areshidze, the Georgian government was well aware that Russia planned to escalate the situation in the breakaway regions and that Georgian government knowingly "fell into a trap".