The first meeting of the inter-factional commission was held in the Ministry of Justice of Georgia on August 19, after the commission moved from the authority of the National Security Council of Georgia (NSC).
(more)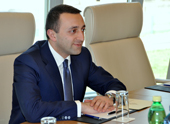 The situation is calm in Pankisi Gorge, where local Georgians and ethnic Kists had a conflict late on August 18.
(more)
"The Orthodox Church celebrates the transfiguration of Jesus "
(more)