Russian market poses risks to Georgian wine industry
By Ana Robakidze
Monday, September 2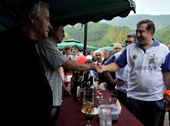 Georgian President Mikheil Saakashvili says that Georgia produces some of the best wines in the world and the product should be holding a premium segment on the world markets. Speaking at the wine festival in Ambrolaury in western Georgia, Saakashvili stated that the Russian market can be a threat in itself. According to the president, the average price of unique Georgian wine should be around $100-300 USD per bottle, but in Russia there is a demand for cheap wines and Georgian wine makers may be forced to export their products at a lower price, which is unrealistic and impossible. The president fears that the production of counterfeit wine will be resumed in Russia again replacing high-quality Georgian wine on the shelves of Russian shops. "The Russian market can turn into a trap," Saakashvili said.
It has been about two months now since the Russian embargo on Georgian wine was lifted and wine produced by seven Georgian companies is already available in Russia.
Georgian wine companies have turned into a problem for Armenian and Moldovan wine companies, who have been trying to dominate the Russian wine market and fear they will soon lose their positions to Georgian products. Quality and the popularity of Georgian wine have seriously shattered their positions in Russia.
Several Moldavian companies have already complained to Russia's state consumer protection agency. Representative of the agency, Valery Katukov, declared earlier that the wine market is a large business and changes on the market have to be accepted by everyone as it is usually accepted in business.
Despite the fact that due to unpredictable policy and large scales, the Russian market is considered to be slightly different from other world markets, Georgian companies still tend to be very optimistic about their success in wine export to Russia. The confidence is based on the success Georgian wine has been experiencing on the U.S and Euro-Asian markets. However, Georgian wine makers also acknowledge that there are larger risks to be expected.
Experts say it is too early to speak whether the return of Georgian wine to Russian market has been as triumphant as it could have been expected. According to economic analysts, Georgia will have to struggle to return to its original position, when the country held 10% of the Russian market. Georgia is expected to return only 2% of the market due to the fact that Georgian wine is quite expensive and will have to face stiff competition from companies from Latin America, Spain and Portugal, which have filled the market with cheaper wines.
In 2013 Russia plans to receive around 5 000, 000 bottles of wine from Georgia. The number is of course modest compared to the pre-embargo period, when Georgia annually exported 50 million bottles to Russia.
Experts in wine production say that Georgia has to follow a wise policy and should not focus only on Russian market assimilation. Georgian wine was banned in Russia back in 2006, and the companies have to face the fact that for over the last eight years, the reality has changed on the world markets.