NDI delegation provides key recommendations
By Ana Robakidze
Tuesday, September 10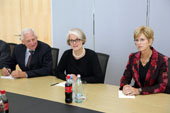 The National Democratic Institute (NDI) had organized an international delegation to assess the electoral preparedness in advance of the October 27 presidential election.
NDI said in the official press release that the delegation was created to examine factors that could affect the electoral process, review the broader political environment and of course, offer some recommendations as well.
The delegation had meetings with the President, the Chairman of the Parliament, the Prime Minister; the Ministers of Foreign Affairs, Justice and Internal Affairs, a number of presidential candidates, political party leaders, the acting chairman of the Central Election Commission, the State Audit Office (SAO) Chairman, the National Security Council Secretary, civil society organizations monitoring the election, and members of the diplomatic corps.
On September 6, the delegation released its official report, highlighting its findings in the political environment, electoral legislation and administration, finances, voter's lists, and in the media environment.
The delegation noted positive improvements in the electoral environment. "Voters in Georgia this fall look poised to benefit from a more open electoral environment than in Georgia's recent elections," the report says. It is mentioned in the document, that candidates for the presidency have an "opportunity to reach the electorate through the media" and civil society actors have access to election officials. Amendments in the electoral code are also mentioned in the paper as a positive improvement, which has addressed many challenges of the previous elections.
The delegation members still seem to be concerned over the use of administrative resources during the campaign. They say "the legal framework does not yet provide a sufficiently clear distinction between state and party resources."
Assessing the media environment in Georgia, the report recommends ensuring the balanced coverage of politics.
The NDI delegation offers some key recommendations, which should help to build further public confidence in the process leading up to the October presidential election.
The delegation advises government leaders to ensure that all public officials are fully informed about the rules concerning the use of administrative resources and enforce sanctions for any violations. Political parties and candidates should provide timely and accurate reports on their funding sources and expenditures.
Also, law enforcement should make sure to protect the right of assembly is ensured by providing sufficient protection to prevent violence.
The delegation also has some particular recommendations for the Central Election Commission (CEC). The report advises the CEC to "intensify voter education efforts in minority areas" and "to expand the use of election materials in ethnic minority languages."
NDI also hopes the President will urgently nominate a qualified new CEC chairperson who enjoys the confidence of parties and civil society organizations.
The delegation included former New Jersey Governor Christine Todd Whitman, former Missouri Secretary of State Robin Carnahan, former European Union Ambassador to Georgia, Per Eklund, Atlantic Council Executive Vice President, Damon Wilson, NDI President Kenneth Wollack, NDI Regional Director for Eurasia, Laura Jewett and NDI Resident Director in Georgia, Luis Navarro.