IFC Supports Bank Republic to Increase Mortgage Lending in Georgia
Tuesday, September 10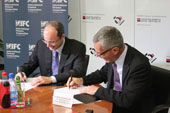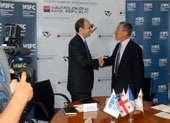 IFC, a member of the World Bank Group, is supporting Bank Republic, a Georgian subsidiary of Societe Generale Group, to increase mortgage lending in Georgia and broaden access to high quality banking services and products.
IFC will provide Bank Republic with a $20 million loan over 10 years, to enhance the bank's ability to provide mortgages to local borrowers. The investment will help meet the growing demand for quality housing in Georgia and the project is expected to help develop the mortgage market in the country.
"As one of the most innovative and dynamic banks in the market, Bank Republic has been offering its clients mortgage loans among other products for a long time," said Christian Carmagnolle, CEO of Bank Republic. "This new agreement with our long-term partner IFC will ensure that Georgians and their families have easier access to real estate under the best conditions available in the market."
Lack of adequate housing is one of the biggest challenges facing emerging markets today. Mortgage finance often helps fill the gap, but access is often limited. IFC aims to increase the availability of long-term funds for mortgage lending in emerging markets.
"Long-term financing is not readily available in the local market," said Thomas Lubeck, IFC Regional Manager for the South Caucasus. "This much-needed long-term loan is part of IFC's systemic efforts aimed at supporting Georgia's financial sector. The project is expected to make mortgages more affordable while improving living standards of many borrowers."
Georgia became an IFC member in 1995. Since then, IFC has invested about $656 million in 51 projects across various sectors and supported regional projects developed in the country. IFC has also implemented a number of advisory projects focused on developing the private sector.
IFC, a member of the World Bank Group, is the largest global development institution focused exclusively on the private sector. Working with private enterprises in more than 100 countries, we use our capital, expertise, and influence to help eliminate extreme poverty and promote shared prosperity. In FY13, our investments climbed to an all-time high of nearly $25 billion, leveraging the power of the private sector to create jobs and tackle the world's most pressing development challenges. For more information, visit www.ifc.org.
Bank Republic, a member of the Societe Generale Group since 2006, is one of the most successful banking institutions in Georgia. Established in 1991, the bank enjoys a leading position in the retail and corporate market. Thanks to its universal business model, Bank Republic Societe Generale Group remains a reliable long-term financial partner for its clients. The bank provides simple, transparent and innovative banking products and a superior quality of service via its 39 branches throughout Georgia.
Societe Generale is one of the largest European financial services groups. Based on a diversified universal banking model, the Group combines financial solidity with a strategy of sustainable growth, and aims to be the reference for relationship banking, recognized on its markets, close to clients, chosen for the quality and commitment of its teams. More than 154,000 employees, based in 76 countries, accompany 32 million clients throughout the world on a daily basis. Societe Generale's teams offer advice and services to individual, corporate and institutional customers. For more information, visit
www.societegenerale.com.(IFC)