Situation calm in Ditsi but far from resolved
By Ana Robakidze
Friday, September 20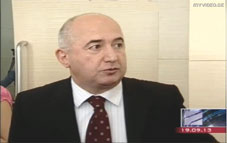 The Ministry of Internal Affairs of Georgia has released a special statement regarding the recent incidents in the village of Ditsi, which borders the administrative boundary line of the breakaway region of South Ossetia. This year Russian troops have installed barbed wires and fences in Ditsi.
"Despite the recent events at Ditsi, the current situation is calm. Units of the Ministry of Internal Affairs are intensively conducting patrolling and monitoring on the ground. The Ministry of Internal Affairs is actively cooperating with the European Union Monitoring Mission in order to maintain control, peace and stability."
The Ministry of Internal Affairs has not confirmed that the South Ossetian government has put restrictions on free movement. Allegedly the regulations came into force on September 18th.
The Ministry of Internal Affairs and the Ministry of Foreign Affairs have called on the international community to assess the Russian Federation's actions and to act accordingly.
Minister of Foreign Affairs Maia Panjikidze said that the situation in South Ossetia and the neighboring area will be discussed with the diplomatic corps in Georgia. Panjikidze said that situation in Ditsi is calm at the moment but warned against having too positive an assessment of the situation. Panjikidze stressed that Russian forces have stopped and renewed installing barb wire fences several times in the past.
State Minister for Reintegration Paata Zakareishvili is also not optimistic about the situation. "Regrettably the occupation process continues." he said.
Zakareishvili said that the current government is working hard to resolve the issue of the breakaway regions but has to deal with a "brutal and cynical" Russian Federation.
"The occupying forces represent a brutal power. They continue the process of annexation... the government is trying to do everything possible to help locals and create proper living conditions for them, so people do not have to move away from the conflict zone." Zakareishvili stated.