PACE delegation studies election environment in Georgia
By Ana Robakidze
Thursday, September 26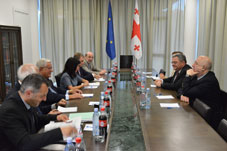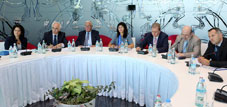 A six-member delegation of the Parliamentary Assembly of the Council of Europe (PACE), led by Meriksell Mateu Pi, is paying a visit to Tbilisi prior to the presidential elections. The main goal of the delegation is to assess the electoral framework and campaign prior to the presidential election on October 27.
Parliamentary Chairman David Usupashvili hosted the PACE Delegation at the Tbilisi Public Service Hall. The topics of the meeting were the election and political issues.
Usupashvili said that according to the unanimous statement made by the PACE delegation members, there is a much better environment in comparison with the last years. "We, the new government, stated that these elections must be a model. There will be numerous monitors, observing. We are ready to accept recommendations, but currently, I can proudly state that we keep the schedule and we can hold the elections without fraud," Usupashvili stated after the meeting. He also added that the presidential elections should be exemplary and the government will do its best to achieve this goal.
The PACE delegation also held meetings with the presidential candidates of the Georgian Dream coalition, Giorgi Margvelashvili; United National Movement (UNM), Davit Bakradze; Democratic Movement – United Georgia, Nino Burjanadze; Labour Party, Shalva Natelashvili, and Chritsian-Democratic Movement (CDM), Giorgi Targamadze. The candidates informed PACE members of the problems they have faced during their election campaign.
"Our colleagues from the Council of Europe are particularly concerned about the cases of violence that are underway during the lead-up to the elections in Georgia," Bakradze stated after the meeting. He expressed his hope that the government will conduct "elections that will be beneficial for the country."
During their visit to Georgia, the PACE delegation also met with the Head of the Council of Europe in Georgia, Caterina Bolognese; Chairman of the Georgian Central Election Commission (CEC), Tamar Zhvania; Prime Minister, Bidzina Ivanishvili, as well as with media representatives and the diplomatic corps.
The delegation includes MPs Meriksel Mateu Pi, Andres Hergel, John Tomlinson, Christopher Chop, Vasily Likhachev and Boris Silevich. A full 30-member delegation from the Assembly will return to the country to observe the voting.