EU Political and Security Committee visits Georgia
By Ana Robakidze
Wednesday, October 2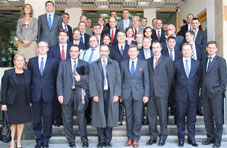 The EU Political and Security Committee (PSC) arrived in Tbilisi on September 29th. The EU ambassadors visited EUMM Headquarters and its Field Office in Gori and held meetings with President Mikheil Saakashvili, Prime Minister Bidzina Ivanishvili, Foreign Minister Maia Panjikidze, State Minister for Reintegration Paata Zakareishvili, the PM's special representative for relations with Russia Zurab Abashidze, as well as with the Georgian Dream and the United National Movement (UNM) lawmakers and the representatives of civil society.
Georgian-Russian relations were discussed by the Prime Minister Ivanishvili at a meeting with members of the EU delegation.
Ivanishvili told ambassadors that Russia continues its unlawful actions, despite positive steps taken from the Georgian government and urged the EU to enhance its support for Georgia, facilitate the initialing of the EU-Georgia Association Agreement and to continue the policy of non-recognition of Georgia's occupied territories.
"I would like to call on the European Union on behalf of the Georgian government, to strengthen support for the Eastern Partnership countries taking into account the current serious external challenges and ensure the realization of the objectives of the Vilnius summit, which have been already agreed upon," Ivanishvili said.
The ambassadors of the EU member states went on a patrol to Ditsi, Ergneti and Zardiantkari, and were provided with a general overview of the situation along the Administrative Boundary Lines with Abkhazia and South Ossetia.
"It is a very important political statement," Foreign Minister Maia Panjikidze said, commenting on the ambassadors' visit to the conflict region. She also said that the delegation holds detailed information on the conflict regions and is seriously concerned over the unlawful actions of the occupation forces.
After the visit of ambassadors to the village Dvani, where occupants have installed barbed-wire fencing, Minister of Defense, Irakli Alasania said the government is working intensively with all international partners and organizations to halt the 'creeping annexation' of Georgian territory to avoid an escalation of the situation.
The EU delegation to Georgia released an official statement and said the ambassadors' visit to the conflict regions' border is as sign of the importance the EU attaches to Georgia.
"The committee expressed deep concern about the putting-up of fences and other physical obstacles to the freedom of movement along the Administrative Boundary Line and their impact on the local communities. It strongly reiterated its support to Georgia's territorial integrity within its internationally recognized borders," the press release reads.
"Welcoming the progress achieved so far, the PSC encouraged Georgia to continue down the path of reform, further strengthening democratic institutions and the rule of law, as well as addressing the remaining challenges," it is said in the official statement.
"We are at a very decisive moment now. We have to somehow make sure Georgia approaches the EU," President Saakashvili said after the meeting with EU ambassadors.